baby-to-go basics.
A baby carrier's a win-win wonder. Your baby stays safe and comfy—and you stay mobile.
snuggle time.
Keeping baby snuggly close can promote healthy bonding. Your little one will love your body warmth, and with some carrier models, may even hear your heartbeat.
handle with care.
Always read the manufacturer's instructions before using (or washing) your carrier. And be good to your back. Baby carriers are designed to distribute weight in different ways, so make sure you're using it correctly—for the safety and comfort of baby and you.
multi-tasking mama (or papa).
Look ma, no hands! No matter what the style, a hands-free carrier makes going about your day easier and keeping a close eye on baby a cinch.
carrier safety & product recalls.

Our carriers meet the highest standard of safety to make sure your little one is always traveling safely.

all kinds of carriers.
What kind of carrier is right for you and your precious cargo? Each type has its advantages. Consider when and how you'll use it to figure out which type will get the most use. Having a few different styles on hand is never a bad idea.
carrier considerations.
With so many styles to choose from, it's good to know a few things before you buy. Here's what to look for when choosing a carrier.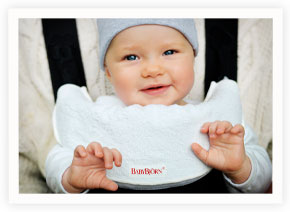 size.

Note any weight restrictions for the product—while considering how much you can comfortably carry. Babies grow fast. Will the carrier be comfortable as baby gets bigger? For how long?

age.

Tiny babies love to be facing inward and cradled close, while older babies may love to face out and see the action. Choose a carrier (or two) that will complement baby's age and development.

lifestyle.

When choosing a carrier, consider where and how you'll use it. Front packs, wraps and slings are perfect for everyday use. And sturdy backpacks make outings a breeze.

natural materials.

Cotton and hemp are used for wraps and slings—some are even organic. Soft and breathable, these fabrics keep baby cozy and can be thrown in the wash.

synthetic materials.

With some carriers, you get the best of both worlds: a soft natural-fiber insert against baby's skin and easy-to-clean synthetic material to maintain structure and support of the carrier.