towels, accessories & more
at great prices.

beachside, poolside or
even inside, we've got
fun towels for everyone.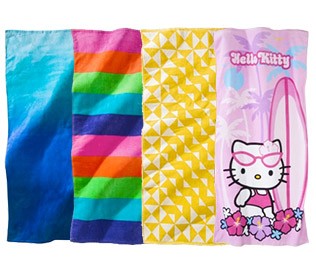 Bathroom accessories are just what you need to make the right statement in your bath. Whether it's a full, half, master, kids' or guest bath, your accessories from Target will help create the perfect look. There's so much to choose from that you may find yourself wishing for additional baths to decorate. Just sayin'! Luxuriously soft bath rugs and toilet covers in amazing palettes of color await! You will be hard-pressed when it comes to selecting coordinating towels. Will you choose the pretty prints, dramatic dots, or crazy character prints? Or will you go for the microfiber solids or colorful stripes? Shower curtains will tie the whole look together. With dozens of choices in floral, geometric patterns and more, your curtains will jazz up your bathroom. Ready to revamp your bath? Bathroom mirrors in a variety of sizes, shapes, styles and finishes will help create light and ambiance. You can never have too much storage, right, ladies? Bathroom furniture consisting of wall cabinets, floor cabinets and medicine chests will provide the room you need to keep your supplies organized and out of sight. Did we cover everything? Not even close! There is so much more. You name it, we have it! So, out with the old and in with the new from Target!