Dr. Seuss™.

it's a bargain,

it's a steal!

every title is

a deal!

save up to $24

TM & © 2015 DSE.
book crush?
pre-order & buy new releases to get your fix.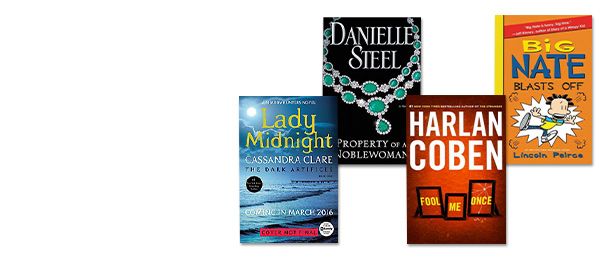 shop the season's fave books.
You'll find the books you want, all in one place and at prices you'll love. What more could a bookworm want? Target has all of the major genres, from fiction and comics, pet and psychology to computer and technology. We have a wide variety of books from emerging authors and long-anticipated reads from fan favorites. Discover your next book club pick by browsing through our NY Times Best Sellers list. We make it easy to quickly grab a copy of your favorite author's books. If you're looking for something totally new, take a sneak peek at the upcoming releases of the latest novels or thrillers. Have a little Laura Ingalls Wilder or Marvel fan at home? Encourage your child's reading habit with comic, chapter, series and teen books. Smaller kiddos will love perfectly sized board book collections. Looking for some self-help books? Our selection of parenting and family, self improvement, health and fitness will get you on the right track. Test prep and study guides come in handy for upcoming exams. From cookbooks to autobiographies, Target has tons of books when you're looking for a good read or a little helpful advice.