plus, save up to 30% on
Bratz, Monster High & more.*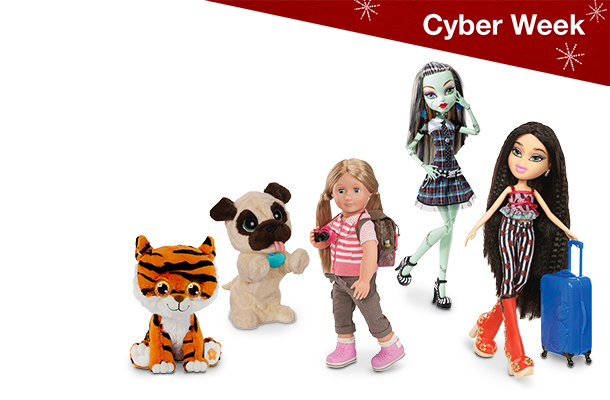 At Target, we love dolls so very much—it's why we carry so very many. First off, there's one of the most famous dolls of all, Barbie. With all the top Barbie toys ranging from dream homes to dolls, and with dolls ranging from mermaid collector editions to that handsome devil, Ken, there's some fun for every imagination. Here's a little factoid that even the most avid fans might not know: The blond icon's middle name is Millicent. Yeah, pretty fancy. And fancy this: There's so much Monster High stuff here, it's scary. There are droves of dolls (plush ones even) from Cleo de Nile to Laguna Blue, and other goodies from hair chalk to costumes, so your little ones' options for pretend play go on and on. And continuing the pretend play are oodles of Our Generation dolls and accessories, as well as loveable Lalaloopsy rag dolls (formerly known as Bitty Buttons, FYI). Now, about that Disney Brave: Girl power rules! Here you'll find bundles of Brave dolls, jewelry, books, play sets and costumes to get creative with—not to mention our sweet selection of Disney Princess fun from Baby Belle to Toddler Tiana. Lastly, home might be where the heart is, but Target is where the dollhouses are. Seriously, you'll see everything from little Smurf cottages to big princess palaces. Okay, kids, time to get dolled up.