the top kitchen brands.
get cooking with the biggest names in food.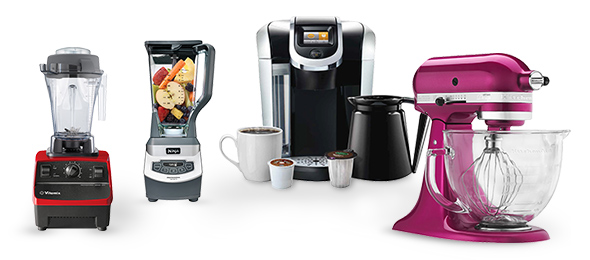 So we got a new cookbook and want to try out some of the recipes. Are you free Saturday night? Great—dinner party at Target! Any food restrictions? Oh, you don't do meat, shellfish, carbs, dairy, gluten, nuts or sugar? And you're in an "orange food only" phase? No problem, we've always thought the other 99.9% of food is overrated anyway. And just bring yourself because we've got everything else covered. Here you'll find all the cool kitchen appliances, kitchen tools, kitchen gadgets, and kitchen cutlery and knives you could ever want for fast and easy food prep. Speaking of things with blades, here's something to sharpen your kitchen trivia skills: Stamped knives cost less than those with handcrafted forged blades, but the forged ones are stronger, more comfortable, and safer to use. However you cut it, though, we've got a huge selection of all kinds. And we carry a crazy-big assortment of cookware and bakeware, too, including great collections from your favorite foodies like Giada, Paula and Rachael. Now let's talk organizational skills. To help you make the most of your kitchen space, we offer tons of smart solutions for kitchen storage and organization, along with cute aprons and kitchen towels in a rainbow of colors. And we'll help set the table with a delectable selection of stylish table linens, dinnerware, glassware and drinkware, flatware and silverware sets—ranging from four to twelve settings—with something for every taste and budget. Dig in.