new Threshold furniture.
introducing the Millsboro collection for mid-century style.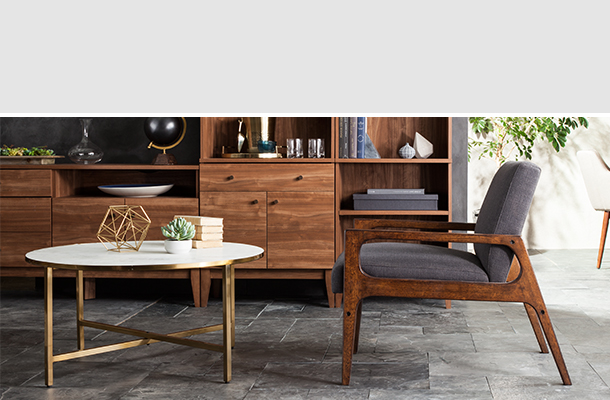 super stylish accent pieces.
seating spots for everyone.
The living room is the heart of a home. Besides the kitchen, it's the room that family and friends seem to gather in. Decorating your space with the right living room furniture is essential for creating a warm and inviting atmosphere. At Target, we believe in treating your home as a masterpiece and our living room furniture pieces help create your work of art.
When looking for living room furniture, start with the room's centerpiece. Our coffee tables, end tables and accent tables are available in different shapes, sizes and finishes to match your décor. Whether you're looking for a coordinated setting or an eclectic look, you'll find the perfect tables for your living room.
When it comes to sofa sets, the first requirement is comfort. And of course, a little style doesn't hurt. We offer soft, sophisticated and smart sleeper sofas, futons, loveseats and chaise lounges from top brands like Threshold and Room Essentials that create designer-furniture magic in the living room. Match them with coordinating TV stands and entertainment units to show off your home theater system and media collection.
If you need a few pieces of accent furniture to add to your living room, we have hall tables, cabinets, recliners, armchairs, ottomans and benches. Our finishing touches will help you create the perfect look for a space you'll want to come home to.