Give on the go video
"Web enabled mobile phone required. Msg & data rates may apply. 1 msg per query. Text HELP to 827438 for info or text STOP to 827438 to cancel."
it's so easy.
find the perfect design. then send it to their mailbox, inbox or smartphone.
shop Target GiftCards ›
Blowfish Birthday Gift Card
Birds and Berries Gift Card
3D Thanks Gift Card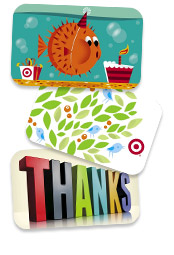 already got
a Target GiftCard?
you can do a lot with it. use it, share it & more. check it out.
save.
put a card on your phone.
share.
one card on two phones.
combine.
two cards on one phone.