classic designs.
elegant details.
totally adorable.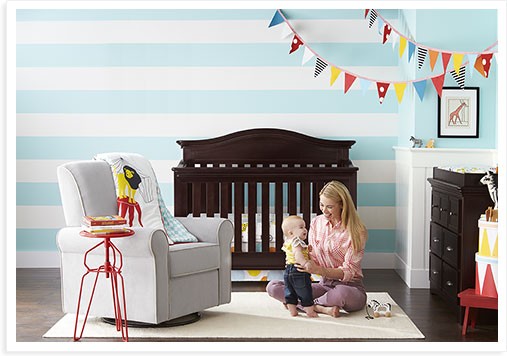 choose store pickup at checkout & go to theGuest Service Counter.
Get the nursery ready even before your baby arrives. To welcome your family's newest and littlest member, you'll need a lot of things, as you can imagine. Finding the right nursery furniture can be a challenge, but not when you're at Target! Create the perfect nursery you've always wanted to with our stylish collections.
Give your baby's nursery a beautiful centerpiece with one of our cute and charming cribs. If bassinets or bedside sleepers are what you want, Target has them all in fun designs. You'll also find crib mattresses, conversion rails and more to make the place comfy for your little one.
Having a baby can mean having a lot of things around, so storage is something to keep in mind. Choose from our huge section of dressers  to organize baby clothes and essentials. A separate changing table helps keep your nursery clutter-free. But if space is a concern, you'll love practically designed baby furniture like dresser-changer combos.
Target also has a wide range of baby bedding sets, glider and ottoman sets, toddler beds, travel beds and more to complete your nursery-building experience. You can browse nursery furniture by finish, which means color coordinating the room is made easy.