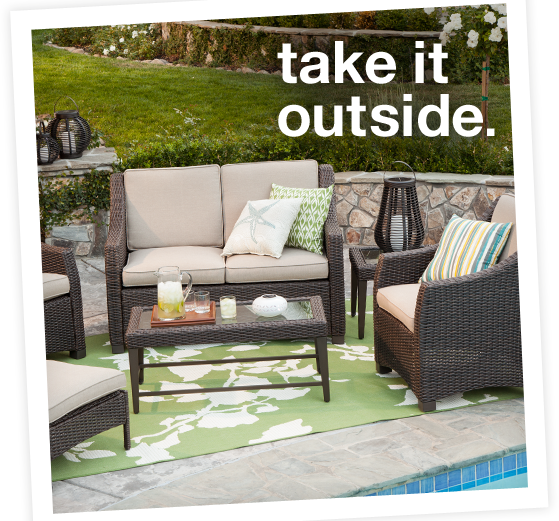 a table, with no reservations.

If your patio space is smaller, try a bistro table or small square table. For a larger outdoor area, a round or square table is a good bet. If you're entertaining a more sizable group of friends, look for a long rectangular table. And don't forget about coffee tables–they're perfect for pairing with seating, especially if your patio space is too tight for a regular table.

take a seat.

With so much variety in outdoor seating, it's never been more fun to pick a perch that meets your needs. Choose from Adirondack chairs, sofas, chaise lounges, benches and more.

under the umbrella.

Beyond providing a break from the direct sun, patio umbrellas come in all sorts of fun colors and patterns that bring a punch of personality to your patio space. Patio umbrellas are made from a variety of materials with varying degrees of fade resistance, so think about your patio's sun exposure to find the right option.

learn more

frame-worthy furniture materials.

From steel to all-weather wicker, patio furniture frames are made from a variety of materials, each with a distinct aesthetic. Use this guide to learn more about each material type to find your ideal patio furniture setup.