a bright idea.
why flip the solar switch.
Lighting accounts for about 20% of your home's electrical bill*. The good news is that solar lights run off the sun, so you're not paying anything after you buy them.
*Energy Star.
solar keeps it simple.
In addition to saving money, solar lights are also a simpler solution than conventional outdoor lighting—most require no wires and are easy to install, as well as move and replace.


everything under the sun.
solar path lights.

Path lights illuminate walkways, driveway perimeters or footpaths with a wide downward light that adds visibility. Solar lights often feature sensors that turn the lights on as the sun fades, and some even offer colored lenses to help create a chic ambiance for your outdoor get-togethers.

shop solar path lights

solar spot
& task lights.

Spot and task lights produce a bright beam of light for accenting plants, statuary and entryways. Sometimes the solar panels are detached from lights, allowing you to position the panel in the sun while still giving you freedom to place lights right where you want them.

shop solar
spot & task lights

decorative
solar lights.

Give landscaping a soft glow with illuminating lights. Decorative lights feature solar cells that allow them to charge in partial shade or on cloudy days, and some offer on/off switches to save their charge for special occasions.

shop decorative
solar lights

solar string lights.

String lights are a set of solar lights that run off a single solar panel you can position anywhere. They're great because you can create a line of multiple lights without needing a single outlet.

shop solar string lights
how solar lights work.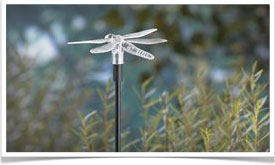 the basics.
It starts with the sun. The energy from the sun's rays is absorbed by a collection panel, then converted into electrical energy that is stored in highly efficient rechargeable batteries. As the sun sets, the lights turn on. In ideal situations, fully charged lights can remain on for 6-10 hours.
supercharging your solar.
If you want your lights to run all evening, place panels in a sunny area. Many lights have timers that help you save energy by having them shut off after a certain time as well as an on/off switch when you don't need them at all.

caring for your solar lights.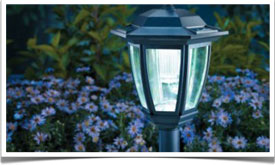 helping your lights last.
Lights should last a couple years with proper maintenance. When they start to dim, you can buy a replacement battery to help increase their shine.
rain or shine.
Solar lights work in all weather and temperatures, and are easy to maintain. Just remember to wipe the panel off every so often, especially when it snows. In extreme weather, it's best to store them indoors—shut them off and remove their batteries.