head-to-toe protection.
get covered.

Keep your skin healthy and defend against lasting damage with these expert tips from The Skin Cancer Foundation.

learn more about sun safety skincancer.org

the best defense.

Choose products with an SPF of 15 or higher for daily use and 30 or higher if you're going to be outside a while. Reapply every two hours or immediately after swimming or sweating. Look for products with The Skin Cancer Foundation's Seal of Recommendation and for broad-spectrum formulas, which screen out both UVA and UVB rays.

sunscreen for all.

It's a good idea to use sunscreen all the time, rain or shine. Most everyone, except for babies under 6 months, should use sunscreen, year-round, to defend against skin damage and skin cancer. Snow and sand's reflective glare boosts the risk of sun damage, so protect yourself at the beach or on the slopes, too.

keep or toss?

The FDA requires that all sunscreens be effective for at least 3 years, so check the date printed on the bottle and toss it if it's expired. Or, write the purchase date on the bottle when you buy it. Changes in color or consistency may indicate the product is no longer effective.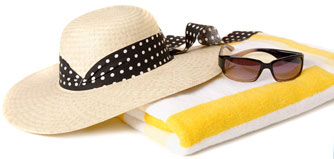 screen out the beams.
lotions & creams.

Lotion formulas are great for face and body, especially if you have dry skin.

gels.

Quick-drying and non-greasy, these work best on hairy areas like arms, the scalp and men's chests.

sticks.

A no-mess applicator stick is good pick for controlled application around the eyes and ears.

sprays.

Sprays are designed to be easy to use on the go, at the beach, during sports and more. Sprays are kid-friendly, too, since they're quicker and easier to apply than lotion.

sensitive skin formulas.

Find special formulas for babies, kids, water use, sports and adults with sensitive skin.
sunscreen science.

Sunscreens help prevent the sun's ultraviolet (UV) radiation from reaching the skin. Some ingredients filter out UVA rays, others UVB rays, and some, called broad-spectrum sunscreens, filter out both.

learn more about sunscreens

understanding SPF.

SPF means "sun protection factor"—basically, how long you can stay in the sun without getting burned. For instance, if your unprotected skin burns in 20 minutes, using an SPF 15 prevents burning 15 times longer. The higher the SPF, the longer you'll be protected. Still, you'll want to reapply every two hours to maintain that protection.

don't miss a spot.

Protect your face and body from sun damage by applying 1 oz. (2 tbsp) of sunscreen 20–30 minutes before going outside. When applied correctly, sunscreen can help prevent sun damage. However, most people apply 1/3 to 1/10 less sunscreen than they need, so consider using a higher SPF to make sure you're covered. Reapply every two hours or immediately after swimming or sweating. Don't forget to protect your lips with a balm or lipstick of SPF 15 or higher.
treat the burn.
all about sunless tanning.

Go for the glow with sunless tanners that give you healthy, radiant color without sun damage. Be sure your sunless tanning products include sunscreen or use a separate SPF product for protection. Remember to reapply every two hours or after swimming or sweating.

shop sunless tanners

sunless tanner magic.

Most tanners use an ingredient called dihydroxyacetone (DHA) that reacts with the outermost layer of skin to temporarily darken it. The color won't wash off but will fade as dead skin cells slough off — typically within a few days. Tip: Be careful about sitting or touching light fabrics right after you apply tanner to avoid stains.

get gorgeous.

prep

Exfoliate gently with a soft
washcloth in the shower or
bath. Wait several hours
after shaving before applying
tanner to prevent irritation.

apply

Wear snug, dark underwear or swimwear while applying tanner—you can create a fake tan line by wearing the same clothing each time. Reach your back with a sponge, a sponge roller or a 2-3" paintbrush. (Wash and dry applicators between uses.)

lighten

Use lotion to blend sunless tanner or lighten areas that may darken too much, such as knees, elbows, belly buttons, and between your fingers and toes. Wear gloves, use wet wipes or wash your hands frequently to avoid darkening your palms and nails.

perfect

Lighten a dark belly button with a cotton swab dipped in liquid eye makeup remover and lighten spots on your hands with hydrogen peroxide. Bath powder applied 30 minutes after tanner application can lessen the "sticky" feeling. Remember to moisturize and reapply tanner according to product directions.