Bounty DuraTowel Select-A-Size Paper Towels 6 Plus Rolls product details page
/ProductDetailsTabView?parentId=205422874
Bounty DuraTowel Select-A-Size Paper Towels 6 Plus Rolls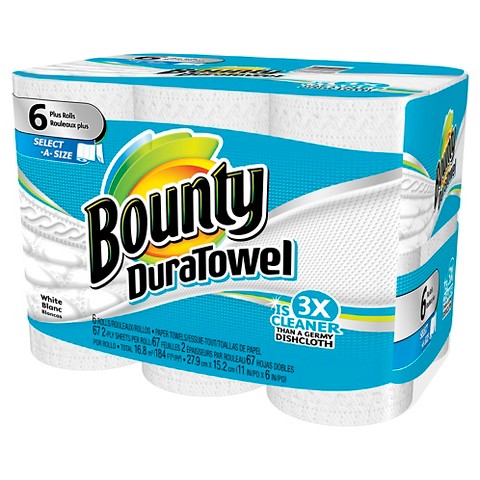 Product View zoom in.
Product Information
To avoid danger of suffocation, keep this bag away from babies and children. Any paper product can burn if used improperly in microwave or conventional ovens. Not recommended for use in hot conventional ovens. Do not leave crumpled paper towels in the oven - they can ignite. Do not dry herbs or flowers on paper towels in microwave or conventional ovens. In case of fire, turn microwave off and leave door closed. On occasion, ink from wet paper towels may transfer to some surfaces. For best results, use the unprinted side.
From the Manufacturer
It's time to ditch that germy dishcloth and switch to Bounty DuraTowel™ paper towels, the cleaner way to clean. Bounty DuraTowels are 3X cleaner than a used dishcloth. So don't waste time spreading the germs around with a dirty dishcloth. Get your kitchen clean with Bounty DuraTowel, the durable, cloth-like picker-upper.
Additional Product Information
Bounty DuraTowel Durability Demo Video