Gravity's Rainbow (Reprint) (Paperback) product details page
/ProductDetailsTabView?parentId=201417977
Gravity's Rainbow (Reprint) (Paperback)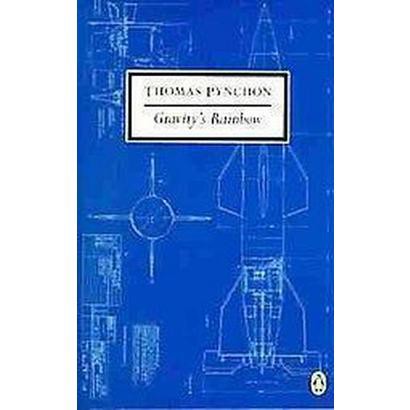 Product View zoom in.
list:

Regular price

$20.00

(save 15%)
Product Information
product specification
Book Subgenre:

Science Fiction + Fantasy, Literary, General, Stages of Life, War + Military, Society + Social Issues, Work + the Workplace, Philosophy, Human Qualities + Behavior, Science + Technology, Politics, Literary Genres + Types of Novels, Types of Characters, Conflicts + Dualities, Love + Relationships + Sex

Language:

english

Edition:

Reprint

Format:

paperback

Book Genre:

Fiction + Literature Genres, Fiction + Literature Themes
Reviewer: Earl Shorris, (Harper's)

"... he is searching for the same complex imitations of complexity that Joyce, Proust, Faulkner, and now William Gass use so beautifully. There is no reason to think that he will not soon succeed. The man is only 35 years old, and the language of each of his novels is more interesting than the last..."
Reviewer: Richard Poirier, (Saturday Review)

"At thirty six, Pynchon has established himself as a novelist of major historical importance. More than any other living writer, including Norman Mailer, he has caught the inward movements of our time in outward manifestations of art and technology so that in being historical he must also be marvelously exorbitant.""