Infantino Go GaGa Mirror Toy product details page
/ProductDetailsTabView?parentId=205334852
Infantino Go GaGa Mirror Toy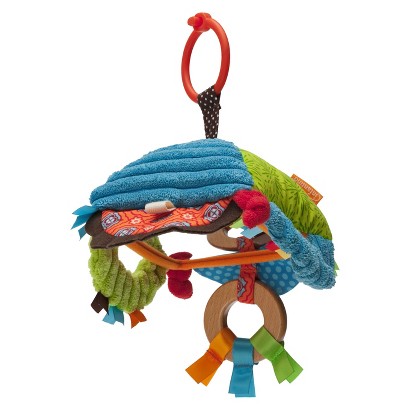 Product View zoom in.
What you'll love:
This soft and cuddly mirror toy will allow your baby to explore and practice his smile. Fabric handles are perfect for chubby hands to grab, the colorful patterns will engage his eyes, and there's a wooden teething ring he can work on bringing to his lips. The embedded jingly ball isn't too loud. Just a pleasant, soft tinkling as your baby plays with the toy.

What to watch out for:
The mirror can be clipped to the side of your stroller or car seat with a plastic ring, but it won't stretch – so be sure your little one can easily reach it!

The bottom line:
A terrific add-on to every car seat so that baby can "go gaga" for his own face!
this is part of the Infantino Go GaGa Toy Collection