Million Little Mistakes (Paperback) product details page
/ProductDetailsTabView?parentId=202226119
Million Little Mistakes (Paperback)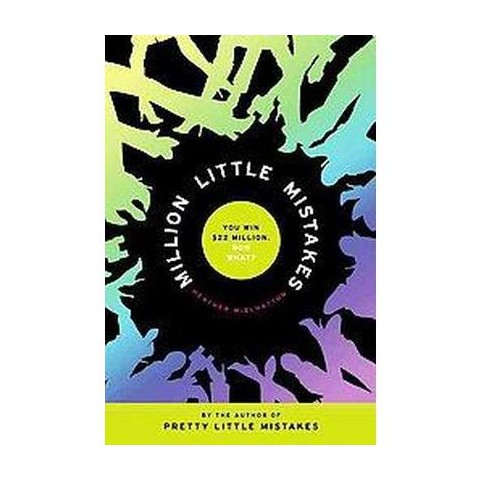 Product View zoom in.
Product Information
product specification
Pages:

492

Book Subgenre:

Literary Genres + Types of Novels, Conflicts + Dualities, General

Language:

english

Format:

paperback

Publisher:

Avon A

Book Genre:

Fiction + Literature Genres, Fiction + Literature Themes
Million Little Mistakes (Paperback)
is rated out of
5
by
1
.
Rated

5

out of

5
by
Anonymous
from
This Book is Fantastic!
Heather McElhatton must be delightfully deranged! For only a crazy person could have created such a bizarrely entertaining set of circumstances! What can I say - I've finished about half of the storylines, and without giving too much away, I'll tell you that I've been blown up, lived the life of an American aristocrat, and become a sort-of modern day Ma Barker - just to name a few outcomes. The lives you can live in Million Little Mistakes range from the extravagant and whimsical to the ludicrouss and demented - basically, this book is fantastic! You may remember that I read McElhatton's first do-over novel, Pretty Little Mistakes, a few weeks ago and loved it. I really didn't think she could have come up with even more and better scenarios for Million Little Mistakes, but she has certainly topped herself here. Million Little Mistakes is a little different from Pretty Little Mistakes in that every storyline doesn't end in your death. Don't get me wrong, there are some casualties contained within the pages, but do not fear the reaper - sometimes the end is left entirely up to your imagination. As someone who enjoyed surrendering her many lives in Pretty Little Mistakes, the stories that I most relished in Million Little Mistakes ended in death. McElhatton's creativity is brilliantly illustrated in her descriptions of the diverse afterlives of people. One of my favorites so far is one where the dead are in a train station, and everyone has 30 seconds to board the train for their next life. The author quips, "No wonder people pick crappy lives; they hardly have time to pick at all." I love it!Million Little Mistakes is a fun and witty read with a little something for everyone. Hilarious and captivating, you will not be able to stop reading. As for me, I'm going back in to change everything. There's really no telling where my choices will take me this time, but I can't wait to find out!
Date published: 2010-08-11