Native Speaker (Reprint) (Paperback) product details page
/ProductDetailsTabView?parentId=201272790
Native Speaker (Reprint) (Paperback)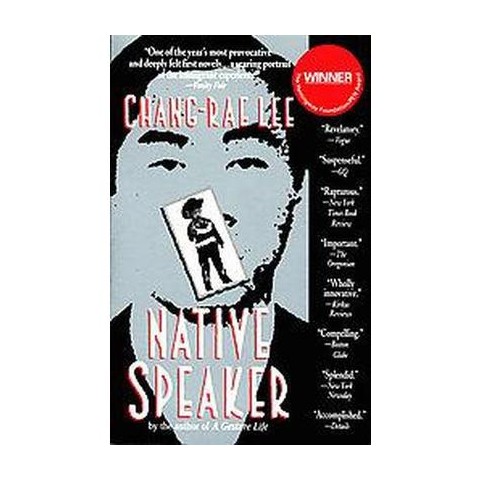 Product View zoom in.
Product Information
product specification
Book Subgenre:

Literary, Conflicts + Dualities, Peoples + Cultures, Politics, Human Qualities + Behavior, Society + Social Issues, Family + Friendship, Love + Relationships + Sex, People + Places / United States / Asian American

Language:

english

Edition:

Reprint

Format:

paperback

Book Genre:

Fiction + Literature Themes, Fiction + Literature Genres, Juvenile Fiction
Reviewer: James Kim, (USA Today)

"Ultimately, 'Native Speaker' is a broad reflection on the fragility of society's primal forces: marriage, blood, race, love. Lee writes with tremendous insight and respect for such forces, avoiding cliched sentimentalism. And yet he leaves readers with a linger hope, a faint smile, a new appreciation that there are native speakers from many countries, each with stories equally compelling....Rarely are such stories so wonderfully rendered."
Reviewer: Verlyn Klinkenborg

"Native Speaker is driven by the silence of a Korean family, and its subtext is the tortured ethnicity of the immigrant....Lee carries the silence of Henry Park's family--where silence feels like obstruction--into the heart of his novel. The prose he writes is elliptical, riddling, poetic, often beautifully made....Prose like that is the pleasure of Native Speaker and also its problem....Spying seems, after all, like too small a vehicle for ambitions of the kind that Chang-rae Lee rightly harbors."
Reviewer: Gish Jen

"Native Speaker is that great rarity, an eloquent page-turner. Beautifully crafted, enlightening, and heart-wrenching, it is a brilliant debut and a tremendous contribution to Asian-American literature."
Reviewer: Rand Richard Cooper, (New York Times Book Review)

"[Lee's] interest lies in language, culture, and identity; for him, the spy makes a convenient symbol for the American immigrant."