Pay It Forward (Reprint) (Paperback) product details page
/ProductDetailsTabView?parentId=202272633
Pay It Forward (Reprint) (Paperback)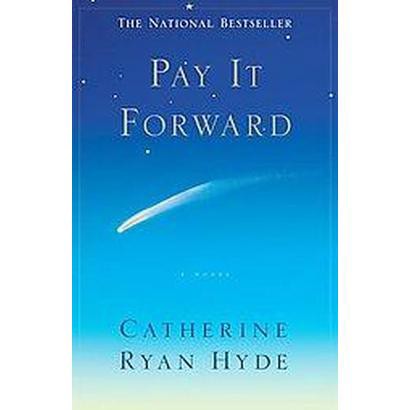 Product View zoom in.
product specification
Book Subgenre:

Literary, General, Family / General, Romance, Types of Characters, Education, Family + Friendship, Literary Genres + Types of Novels, Human Qualities + Behavior, Legal + Courtroom + Crime, Medicine + Health, Peoples + Cultures, Politics

Language:

english

Edition:

Reprint

Format:

paperback

Book Genre:

Juvenile Fiction, Fiction + Literature Genres, Fiction + Literature Themes
Reviewer: Sarah Kelly, (New York Times Book Review)

"Needless to say, this is not a book for cynics, and it's probably no surprise that Hollywood is already at work on a film version."
Reviewer: David Field, (San Francisco Chronicle Book Review)

"One of Hyde's accomplishments here is that she makes us believe that something as irrational as Trevor's idea could work. Her fable speaks to the hunger so many of us feel for something to believe in that can give us hope for a future that looks increasingly bleak. One might assume this book is meant solely for children, and one hopes this book does become assigned in every high school across America, but the book is also more than suitable for an adult reader....Trevor is a wonderfully ordinary boy, and yet he lures us into believing in his dream. When his tale is finished, some readers might, after drying their tears, reflect on the possibility that his vision might not be so lunatic after all."
Reviewer: Tracy Wong, (Book)

"Hyde's second novel is a fable that speaks to its readers from an old-fashioned, homey place....Hyde has a talent for ferreting out dark crannies in the human soul where insecurity, loneliness and despair dwell, and for ever so gently training the light of redemption and awareness upon them."
"A quiet, steady masterpiece, with an incandescent ending."