Philips Norelco HQ56/52 Replacement Head product details page
/ProductDetailsTabView?parentId=200337421
Philips Norelco HQ56/52 Replacement Head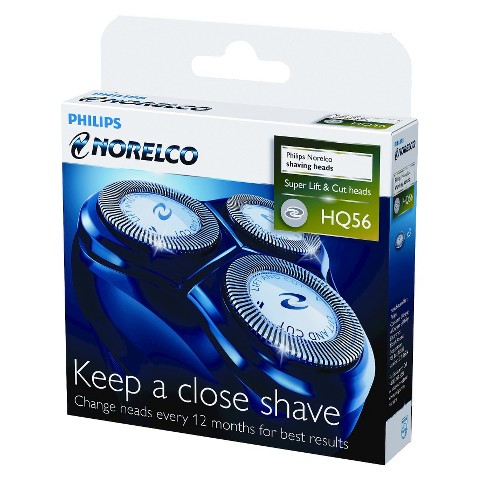 Product View zoom in.
From the Manufacturer
Philips Norelco Replacement Head, HQ56

ComfortCut system minimizes irritation
Super Lift and Cut action lifts hairs to cut below the skin level for a clean shave
Flexing heads automatically adjust to the curves of your face for a close shave
Replace your shaving head every year for best results
Features



Compatibility Information

These HQ56 replacement heads are compatible with the following Philips Norelco models: 31DB, 6423, 6613, 6424LC, 6843, 6853, 6863, 6900 series razors.

ComfortCut Heads for Smooth Shaving

ComfortCut heads have rounded edges that glide smoothly over your skin, so you always get a close - yet comfortable shave. The flexing heads adjust automatically to every curve of your face for a smooth shave with less skin irritation.

Super Lift and Cut Technology Provides a Close Shave

The replacement heads are equipped with the patented Super Lift and Cut System which is designed to give you a close and comfortable shave as the first blade lifts while the second blade cuts comfortably below skin level.

Replace Every Year for Best Results

Replace the shaving heads every year to keep your shaves close and comfortable. The shaving heads are easy to replace.

Switch off the razor and disconnect it from the power outlet.
Press the release button to open the shaving unit.
Turn the lock anticlockwise (1) and remove the retaining frame (2).
Remove the shaving heads and place new ones in the shaving unit.
Make sure that the projections of the shaving heads fit exactly into the recesses.
Put the retaining frame back into the shaving unit and turn the lock clockwise.
Close the shaving unit until you hear a click.

Note: If the shaving unit does not close smoothly, check if you have inserted the shaving heads properly and if the retaining frame is locked.
Specifications
Shaving heads
Shaving heads per packaging
3
Fits product types
6613X, 6843XL, 6853XL, 6863XL, 6940LC, 31DB, 40DB, 6423LC