Raid® Ant Gel Precision Placement Bait 1.06 oz product details page
/ProductDetailsTabView?parentId=204645582
Raid® Ant Gel Precision Placement Bait 1.06 oz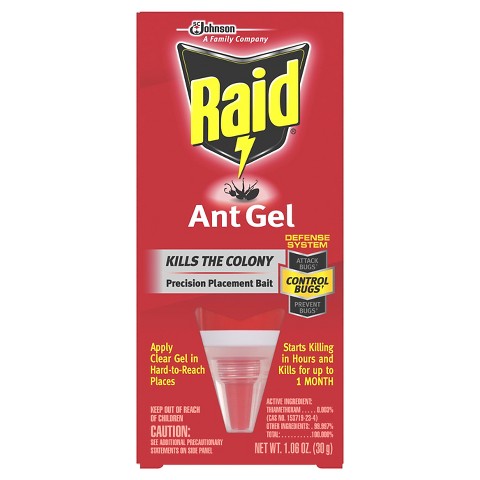 Product View zoom in.
Product Information
Ingredients:
Active Ingredient: Thiamethoxan (0.003%) (CAS 153719-23-4). Other Ingredients: (99.997%).
Keep out of reach of children. Hazards to humans and domestic animals. Wash hands thoroughly with soap and water after handling bait containers. Have the product container or label with you when calling a poison control center or doctor, or going for treatment. Hot Line Number: For 24 hour medical emergency assistance (human or animal) or chemical emergency assistance (spill, leak, fire, or accident), call 800-558-5252.