The Girl With a Pearl Earring (Deluxe) (Paperback) product details page
/ProductDetailsTabView?parentId=201245159
The Girl With a Pearl Earring (Deluxe) (Paperback)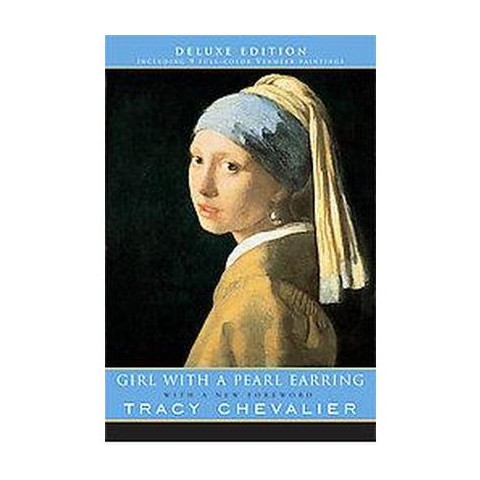 Product View zoom in.
Product Information
product specification
Book Subgenre:

Literary, Love + Relationships + Sex, Conflicts + Dualities, Historical Fiction, General, Types of Characters, Arts + Entertainment

Language:

english

Edition:

Deluxe

Format:

paperback

Book Genre:

Fiction + Literature Genres, Fiction + Literature Themes
Reviewer: Kate Flatley, (Wall Street Journal)

"Tracy Chevalier has written a vibrant, sumptuous novel....Ms. Chevalier doesn't put a foot wrong in this triumphant work....It is a beautifully written tale that mirrors the elegance of the painting that inspired it."
Reviewer: Deborah Moggach, (Guardian (London))

"This is a wonderful novel, mysterious, steeped in atmosphere and yet firmly rooted in the drudgery and denial of a servant's life. It is deeply revealing about the process of painting and is best read with a volume of Vermeer's paintings open beside you - it then becomes a truly magical experience."
Reviewer: Andrew Roe, (San Francisco Chronicle)

"[A]n engaging fictionalization....Fittingly, Chevalier's writing style adopts a painterly approach: The elegant prose evokes contemplation, the pace is slow and cumulative, the drama emotional rather than visceral. In other words, the world Chevalier so vividly captures is a far cry from the whirl and white noise of our own....Looking at the painting after having read the novel, the reader thinks, Yes, Chevalier got it right--that was the story hidden behind those eyes, silent for centuries."
Reviewer: Rachel Campbell-Johnston, (Times (London))

"[A] delicately perceptive little novel....Chevalier draws the reader into the world of the painting, into the mood of the masterpiece she explores: moving, mysterious, at times almost unbearably poignant. Sometimes it seems so strong the reader can almost sense it, feel it breathing all around."
Reviewer: Ruth Coughlin, (New York Times Book Review)

"Chevalier's exploration into the soul of this complex but naive young woman is moving, and her depiction of 17th-century Delft is marvelously evocative."