new prescriptions are

nothing new to us.
ease & convenience are complimentary.
Just bring your prescription to your Target pharmacist or have your doctor call it in. You can conveniently manage future refills online or over the phone. If you have any questions or concerns, we're more than happy to help.
get started at your pharmacy.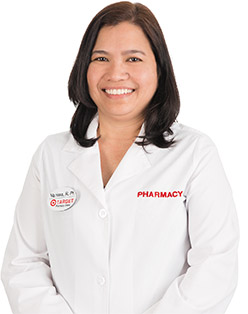 Affordable Care Act.
we want to make it easy for you to discover what healthcare reform means.
pharmacy rewards.
enroll today & get 5% off a day of shopping.*

$4 generics.

Target Pharmacies are not located in all Target stores, hours vary by location, services of pharmacist may not be available at all times when Target stores are open. Free translation services available.
Subject to Target Pharmacy Rewards program rules. Savings certificate cannot be redeemed on purchases of prescription drugs. Offer valid only in the U.S. (except in AR, NJ, NY or where prohibited by law). Purchases of prescription drugs paid for in whole or in part by federally funded programs (e.g., Medicare, Medicaid, TRICARE) will not accumulate toward savings certificate. See store or Target.com/pharmacyrewards for details.
Offer for prescription transfer not valid where prohibited by law. Ask your Pharmacist for details.