Victor Glemaud's vibrantly joyful
collection calls for playtime, asap.
The lime, the bubble gum, the stripes, the animal prints. Y'all... Victor Glemaud gets my style and you must try all of these (and yes, all together).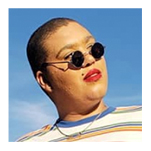 From Style Content Creator: Jazzmyne Jay @jazzmyneJay
Style so bright

everyone needs shades – he even designed these.