product description page
Agents of Empire : Knights, Corsairs, Jesuits and Spies in the Sixteenth-century Mediterranean World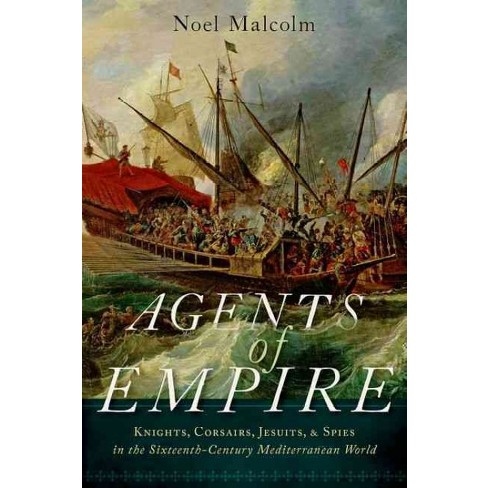 About this item
In the late sixteenth century, a prominent Albanian named Antonio Bruni composed a revealing document about his home country. Historian Sir Noel Malcolm takes this document as a point of departure to explore the lives of the entire Bruni family, whose members included an archbishop of the Balkans, the captain of the papal flagship at the Battle of Lepanto--at which the Ottomans were turned back in the Eastern Mediterranean--in 1571, and a highly placed interpreter in Istanbul, formerly Constantinople, the capital of the Eastern Roman Empire that fell to the Turks in 1453. The taking of Constantinople had profoundly altered the map of the Mediterranean. By the time of Bruni's document, Albania, largely a Venetian province from 1405 onward, had been absorbed into the Ottoman Empire. Even under the Ottomans, however, this was a world marked by the ferment of the Italian Renaissance.In Agents of Empire, Malcolm uses the collective biography of the Brunis to paint a fascinating and intimate picture of Albania at a moment when it represented the frontier between empires, cultures, and religions. The lives of the polylingual, cosmopolitan Brunis shed new light on the interrelations between the Ottoman and Christian worlds, characterized by both conflict and complex interdependence. The result of years of archival detective work,Agents of Empire brings to life a vibrant moment in European and Ottoman history, challenging our assumptions about their supposed differences. Malcolm's book guides us through the exchanges between East and West, Venetians and the Ottomans, and tells a story of worlds colliding with and transforming one another.
In this fascinating and intimate look at the borderland between East and West--Venetian Italy and Ottoman Albania--distinguished historian Sir Noel Malcolm brings to life not a clash of civilizations so much as their fascinating and nuanced interdigitation. In the late sixteenth century, a prominent Albanian named Antonio Bruni composed a treaty on the main European province of the Ottoman Empire concerning his country's place in the empire. Using that text as a point of departure, Malcolm'sAgents of Empire explores and evokes the lives of an eminent Venetian-Albanian family and its paths through the eastern Mediterranean. The family includes an archbishop in the Balkans, the captain of the papal flagship at Lepanto, the power behind the throne in the Ottoman province of Moldavia, and a dragoman (interpreter) at the Porte.

Malcolm uses the family's collective biography as a framework on which to build a broader account of East-West relations and interactions in this period. In doing so, he sheds light new light on the interrelations between the Christian and Ottoman worlds, illuminating subjects as diverse as espionage, slave-ransoming and the grain trade, challenging assumptions about the relationship between. The family trees and biography of Antonio Bruni thus reflect a larger story of empire and cultures, and Malcolm's discoveries challenge classic assumptions while also providing an immersive narrative of discovery.
Number of Pages: 604
Genre: History
Sub-Genre: History
Format: Hardcover
Publisher: Oxford Univ Pr
Author: Noel Malcolm
Language: English
Street Date: September 3, 2015
TCIN: 46778838
UPC: 9780190262785
Item Number (DPCI): 247-52-2030
$31.45
MSRP
Reg: $34.95 Save $3.50 (10% off)