product description page
American Wife : Love, War, Faith, and Renewal (Larger Print) (Paperback) (Taya Kyle)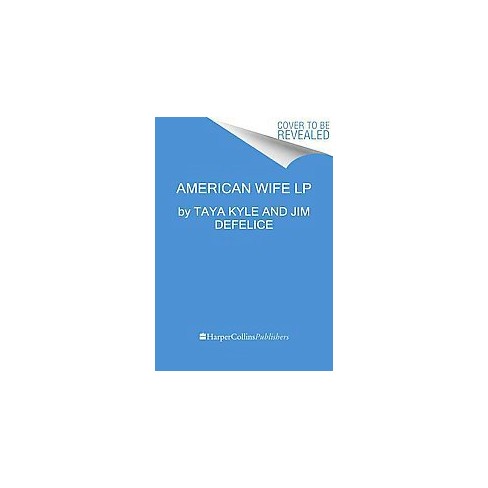 About this item
The widow of "American Sniper" Chris Kyle shares their private story: an unforgettable testament to the power of love and faith in the face of war and unimaginable loss--and a moving tribute to a man whose true heroism ran even deeper than the legend
In early 2013, Taya Kyle and her husband Chris were the happiest they ever had been. Their decade-long marriage had survived years of war that took Chris, a U.S. Navy SEAL, away from Taya and their two children for agonizingly long stretches while he put his life on the line in many major battles of the Iraq War. After struggling to readjust to life out of the military, Chris had found new purpose in redirecting his lifelong dedication to service to supporting veterans and their families. Their love had deepened, and, most special of all, their family was whole, finally.
Then, the unthinkable. On February 2, 2013, Chris and his friend Chad Littlefield were killed while attempting to help a troubled vet. The life Chris and Taya fought so hard to build together was shattered. In an instant, Taya became a single parent of two. A widow. A young woman facing the rest of her life without the man she loved.
Chris and Taya's remarkable story has captivated millions through Clint Eastwood's blockbuster, Academy Award-winning filmAmericanSniper, starring Bradley Cooper as Chris and Sienna Miller as Taya, and because of Chris's bestselling memoir, in which Taya contributed passages that formed the book's emotional core. Now, with trusted collaborator Jim DeFelice, Taya writes in never-before-told detail about the hours, days, and months after his shocking death when grief threatened to overwhelm her. Then there were wearying battles to protect her husband's legacy and reputation.
And yet throughout, friendship, family, and a deepening faith were lifelines that sustained her and the kids when the sorrow became too much. Two years after her husband's tragic death, Taya has found renewed meaning and connection to Chris by advancing their shared mission of "serving those who serve others," particularly military and first-responder families. She and the children now are embracing a new future, one that honors the past but also looks forward with hope, gratitude, and joy.
American Wife is one of the most remarkable memoirs of the year -- a universal chronicle of love and heartbreak, service and sacrifice, faith and purpose that will inspire every reader.
The widow of ?American Sniper? Chris Kyle shares their private journey, a moving and universal chronicle of love and family, service and patriotism, grief and sacrifice, faith and purpose.
How does someone carry on after the death of a hero?
By becoming a hero herself.
Though Chris and Taya Kyle?s marriage had its difficult moments, it was always a love story. Together, they?d endured military service, a bestselling book, unexpected fame, and a film deal starring a hot Hollywood actor. But just when Taya thought that she and Chris were finally going to live their dream together, her husband was murdered. In the wake of his death, a grieving Taya was left to raise her two young children and handle the many things Chris left behind: the business, the book, the movie, and a myriad of legal issues.
Matching the straightforward, soul-baring style of American Sniper, Taya talks with honesty about the trials and triumphs of her life with?and without Chris?the sleepless nights as a military spouse, the exhilaration as her husband was lionized, the quiet moments when family sheltered them from the madness of fame, the joy of discovering her own purpose in harmony with Chris?s own legacy. InAmerican Wife, she recounts the struggles and looks toward the future, revealing the intimate story of her marriage and the inspirations that have given her strength. She speaks out on the effects of fame, both good and bad, and provides a road map for others faced with difficulties, big and small.
American Wife is a startling and affecting portrait of woman of grit and determination?an example we can all follow to become a hero in our own lives.
Edition: Larger Print
Number of Pages: 442
Genre: Biography + Autobiography, Family + Relationships
Sub-Genre: Military, Personal Memoirs
Format: Paperback
Publisher: HarperCollins
Author: Taya Kyle
Language: English
Street Date: May 26, 2015
TCIN: 16950043
UPC: 9780062398895
Item Number (DPCI): 247-43-1441
Shipping
In stock
- free standard shipping with REDcard