product description page
Arduino Robot Bonanza (Paperback) (Gordon McComb)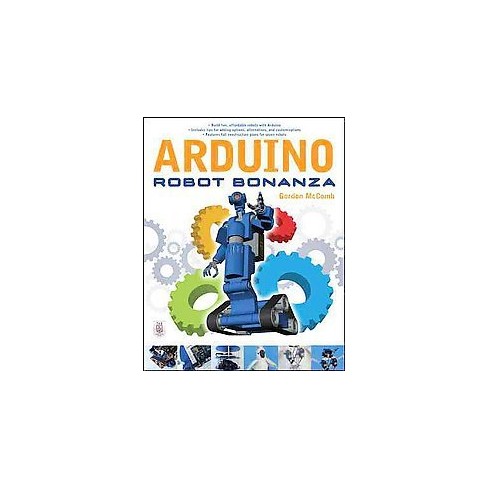 $25.50
MSRP
Reg: $30.00 Save $4.50 (15% off)
about this item
Create high-tech walking, talking, and thinking robots
"McComb hasn't missed a beat. It's an absolute winner!" -GeekDad, Wired.com
Breathe life into the robots of your dreams—withoutadvanced electronics or programming skills.Arduino Robot Bonanza shows you how to build autonomous robots using ordinary tools and common parts. Learn how to wire things up, program your robot's brain, and add your own unique flair. This easy-to-follow, fully illustrated guidestarts with the Teachbot and moves to more complex projects, including the musical TuneBot, the remote-controlled TeleBot, a slithering snakelike 'bot, and a robotic arm with 16 inches of reach!
Get started on the Arduino board and software
Build a microcontroller-based brain
Hook up high-tech sensors and controllers
Write and debug powerful Arduino apps
Navigate by walking, rolling, or slithering
Program your 'bot to react and explore on its own
Add remote control and wireless video
Generate sound effects and synthesized speech
Develop functional robot arms and grippers
Extend plans and add exciting features
Learn how to build seven fun, functional, and affordable robots—all using the Arduino microcontroller
Arduino Robot Bonanza explains how to build a wide variety of robots that roll, walk, talk, crawl, slither—and even sling insults—with the Arduino microcontroller platform. From the author of the bestselling Robot Builder's Bonanza, this book teaches embedded microcontroller programming and reveals the world of robotics.
The book guides you, step by step, through the construction of seven rewarding and educational robot projects. Each robot is designed to explore multiple facets of the growing fields of embedded hardware, microcontroller programming, real-world sensory systems, and human-machine interaction. All of the projects are affordable and all are reproducible using parts available from a wide variety of sources.
Arduino Robot Bonanza
Helps you get up and running quickly with Arduino
Shows how to build seven unique, cutting-edge robots using affordable parts available from multiple sources
Features illustrated, step-by-step construction instructions and assembly plans
Includes tips for adding options, alternatives, and customizations
Explores the latest embedded technologies, hardware interfacing, wireless data communications, real-time sensory feedback, and vision analysis
Encourages you to develop skills in mechanical construction, computer programming, engineering—even art and music
Coverage includes:
Ins and Outs of the Arduino Microcontroller; Arduino as a Robot Brain; Connecting Things to the Arduino; Enhancing Your Robot with Sensors; Expanding the Arduino; Layout and Design; The TestBot Test Platform; Mini Kissing Bug; Animatronic Parrot; Your Robot Avatar; Slithering Snake; 18-Servo WalkerBot; PC-based Autonomous Robot; Crash Course in Electronics; Learning the Arduino Programming Language; Setting Up Your Robot
Number of Pages: 400.0
Genre: Technology
Sub-Genre: Electronics / General, Robotics
Format: Paperback
Publisher: McGraw-Hill
Author: Gordon McComb
Language: English
Street Date: March 13, 2013
TCIN: 13859957
UPC: 9780071782777
Item Number (DPCI): 248-77-5538
---