product description page
Backyard Gardening : Tending and Harvesting the Best Quality Vegetables on Your Mini Farm (Paperback)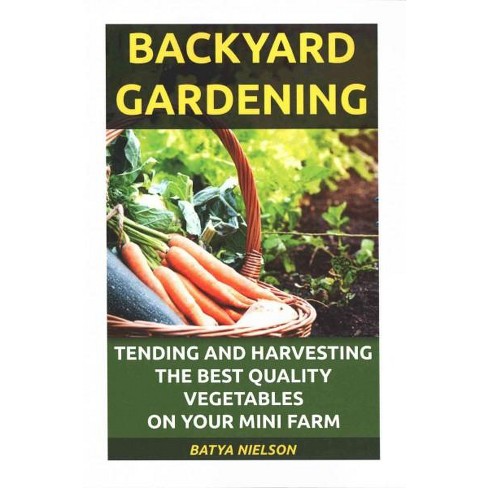 about this item
Backyard Gardening.Tending and Harvesting the Best Quality Vegetables On Your Own Mini Farm
This book is the second in a series of two, written to teach you how to set up, plant, and care for your own backyard vegetable garden. In this book you will read about how to ensure that the vegetable plants you grow will be healthy and productive for the duration of the growing season, and about what to do when the time comes to harvest your crops. The topics covered in the book include:
This eBook provides common sense, practical information on starting your own mini farm on even the smallest plots of land. Whether you plan to raise produce only, livestock only, some produce and some livestock, or a lot of produce and a lot of livestock, the principles included in this volume include (but are not limited to):
Dealing with garden enemies such as weeds, insects and mammals, and disease
Ensuring your plants are sufficiently irrigated
Making compost and using it for fertilizer
When and how to harvest your vegetables
If your garden is not yet set up, read the first book in the series for information that will help you plan the garden and prepare the earth for planting. In the first book, called "Backyard Gardening: Grow your own Vegetables", in addition to the inclusion of illustrative photographs and a list of tools you need to get started, the following topics are covered:
The benefits of having your own vegetable garden
How to set up the garden beds
Making sure the soil in your garden is suitable for growing vegetables
How to decide what to plant in your garden
How to plant and begin caring for the young seedlings /li&
Enjoy reading both books as you set up and work in your own little backyard farm, and more important – enjoy eating fresh produce that you grow with your own hands!
Download your E book "Backyard Gardening. Tending and Harvesting the Best Quality Vegetables On Your Own Mini Farm" by scrolling up and clicking "Buy Now with 1-Click" button!
Tags: backyard farming, backyard homestead, backyard chickens, homesteader, homestead gardening, homestead survival, homestead guide, mini farming, vertical gardening, indoor gardening, urban gardening, organic gardening, backyard chickens, raising chickens, backyard homesteading, homestead projects
Number of Pages: 24.0
Genre: Gardening
Sub-Genre: Urban
Format: Paperback
Publisher: Createspace Independent Pub
Author: Batya Nielson
Language: English
Street Date: August 21, 2015
TCIN: 50340510
UPC: 9781516932627
Item Number (DPCI): 248-06-0047
---