product description page
Barbecue! Bible Sauces, Rubs, and Marinades, Bastes, Butters, and Glazes (Paperback) (Steven Raichlen)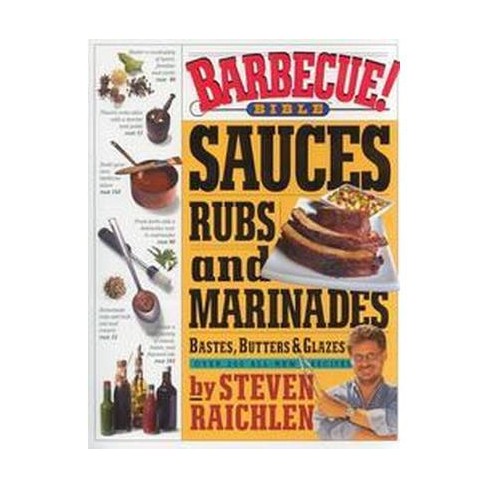 about this item
Marinate skewers of beef tips in Tex-Mex Tequila-Jalapeno Wet Rub before putting them on the grill. Or slather pork chops with B.B. Lawnside Spicy Apple Barbecue Sauce. Or coax a chicken breast to perfection with a Coconut Curry Baste. From Steven Raichlen, author of the big, bad, definitive BARBECUE! BIBLE, comes BARBECUE! BIBLE SAUCES, RUBS, AND MARINADES, BASTES, BUTTERS & GLAZES, an in-depth celebration of those cornerstones on which unforgettable live-fire flavors are built.
Here are fiery spice mixtures for massaging into food, sensuous bastes to be brushed on like lacquer, killer marinades, sugary glazes, tangy mops from award-winning barbecue teams, and dozens of sauces, from the classic tomato-based American Sweet and Smoky to a bold Moroccan Charmoula with its medley of fresh herbs and spices.
In all, 200 recipes cover the gamut. But BARBECUE! BIBLE SAUCES aims even higher - offering a serious education in flavor. Big flavor. It tells how to use a mortar and pestle to maximize fresh garlic and onions. How to create a failproof fish cure and radically improve home-smoked fish. The best way to handle a Scotch bonnet chili to reap its heat and savor without scorching skin or eyes. How to balance acid, oil, and aromatics in a marinade so that it tenderizes meat, coats the exterior to keep it from drying out during cooking, and adds cannon blasts of flavor. And how to confidently incorporate ingredients like tamarind, lemon grass, star anise, wasabi, marjoram, kaffir lime leaf, and tarragon.
Put it all together, and you'll really have your barbecue mojo working.
STEVEN RAICHLEN IS THE WORLD'S LEADING AUTHORITY...on international barbecue. The recipes in this book are finger-licking good...try them all! --Rich Davis, Creator of K.C. Masterpiece Barbecue Sauce
Transform meats and seafood into world-class barbecue with the flavor foundations, wet and dry, that give grilled food its character, personality, and soul. Chili-fired rubs, lemony marinades, buttery bastes, and pack-a-wallop sauces, mops, slathers, sambals, and chutneys - in over 200 recipes from around the globe, master griller Steven Raichlen shows how to add the expert touch to every dish in your repertoire, from a simply steak to an exotic kebab. Includes a short refresher course in grilling and a step-by-step guide to building a signature sauce.
Number of Pages: 304.0
Genre: Cooking + Food + Wine
Sub-Genre: Methods / Barbecue + Grilling
Format: Paperback
Publisher: Workman Pub Co
Author: Steven Raichlen
Language: English
Street Date: May 1, 2000
TCIN: 11809399
UPC: 9780761119791
Item Number (DPCI): 248-24-3366
---