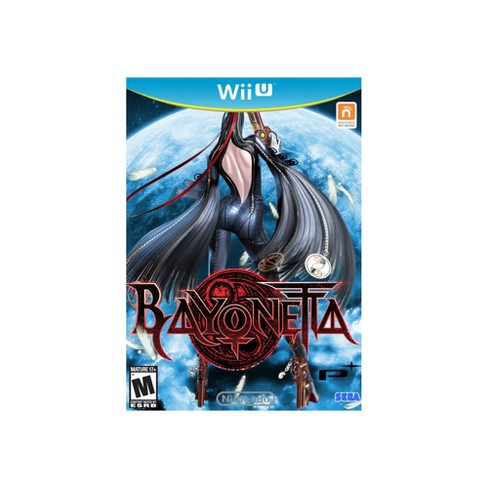 About this item
Highlights
Initiate the new Umbran Climax technique to temporarily summon demons and boost Bayonetta's attack power and range whenever you fill her magic gauge.

Fight with new over-the-top weapons that open new possibilities to the way you battle, including the Kafka, a bow that shoots poisonous arrows; the Rakshasa, a pair of beautiful katana blades; and a giant rifle-inspired scythe known as the Chernobog.

Team up with a friend in Tag Climax, a two-player online co-op mode. Enjoy a little friendly competition by trying to deal the most damage as you work together to take down angels and demons.

In online quick matches, you can wager halos, the in-game currency that you earn by defeating enemies. You receive a large sum back if you can prove you're a better fighter than your partner. Halos can then be traded in a story mode shop to unlock new techniques, buy accessories and pick up alternate weapon variations.

Every chapter ends with a medal ranking: Stone, Bronze, Silver, Gold, Platinum or Pure Platinum. The more skilled you are, the higher your ranking.

This game is approachable for players of all levels, with settings of three difficulty levels. Through Touch Play, you can play with the GamePad stylus and touch screen, regardless of which difficulty you choose.
What is Electronic Software Download or Digital Code product?
Electronic Software Download or Delivered product is just like box software equivalent. This is a full version of the software, usually with the exact same End User License Agreement (license/use rights). The customer downloads the product directly to their computer from the Publisher site or a secure source endorsed by the Publisher rather than installing from a disk. The download link, instructions and license key are set to the customer via email, usually in 1-3 hours from purchase (deliveries can take up to 24 hours). Product keys are available if lost, and product can be re-installed if needed. For Services, the key that is sent is all that is needed to activate the service from the manufacturer's site. Email communication will come from our service provider at (noreply@esd.synnex.com).

To redeem your download code, you will to use a partner's website. Target is not responsible for the content, products or services on our partner website.
Nintendo Bayonetta WIIUThe witching hour strikes again. Brimming with intricate battles that take place in, on and all over epic set pieces, Bayonetta 2 finds our sassy heroine battling angels and demons in unearthly beautiful HD. You're bound to love how it feels to string together combos with unimaginable weapons and to summon demons using Bayonetta's Wicked Weave in this frantic stylized action game.
Model Compatibility: Nintendo Wii U
ESRB Content Description: Blood and gore, intense violence, partial nudity, strong language, suggestive themes
Electronics Condition: New
Video Game Genre: Action/adventure
Developer: Nintendo
IGN Support Element: Downloadable Content
Software Format: Download code in email
ESRB Age Rating: M - Mature
TCIN: 53116137
UPC: 045496660390
Item Number (DPCI): 207-13-0218
Email delivery
download link sent by email after purchase