product description page
Benghazi-Bergen-Belsen (Paperback) (Yossi Sucary)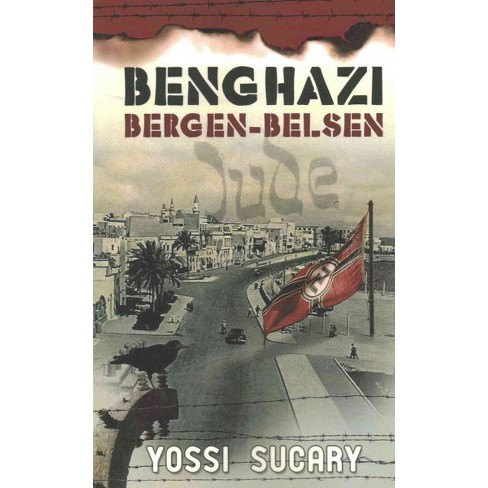 about this item
An epic romance retrieves from oblivion the lost story of the Holocaust of North African Jews
Silvana Haggiag is a brilliant and beautiful young woman in her early twenties, dismissive of the patriarchal norms that govern her Jewish community in the Libyan city of Benghazi. When Silvana's family is violently uprooted from its home and homeland, she is taken along with other Libyan Jews through the blazing Sahara Desert and war driven Italy to freezing Germany. In the long and tumultuous journey from her birth town to the German concentration camp of Bergen-Belsen, Silvana's, navigating her family through horror and distress, she is confronted with dire dilemmas and retrieves hidden strengths. Away from her language, detached from any familiar ground, she is forced to cope with the terrors of a cruel and arbitrary humanity, and prevail.
A breathtaking novel based on profoundly detailed historical research
Benghazi-Bergen-Belzen, the first novel about the Holocaust of Libyan Jews, brilliantly depicts the transformations and tribulations this intriguing community has undergone during the Second World War. Violently uprooted from their autonomic lifestyle and thrown into a language, culture and geography completely foreign to their own, Libyan Jews, Like other Jews living among Arabic speaking Muslims, were doomed to profound detachment, cut off even from the new ways of life formed among the camps' prisoners. Placed at the bottom of the ****** race-hierarchy for their oriental origin, they were incomprehensible to the European eye and perceived as intimidating, even by their fellow European Jewish prisoners. The novel was chosen by the Israeli Ministry of Education to be included in the Holocaust studies program for high school students.
Scroll up to grab your copy of Benghazi-Bergen-Belzen now!
Number of Pages: 319.0
Genre: Fiction + Literature Genres
Format: Paperback
Publisher: Createspace Independent Pub
Author: Yossi Sucary
Language: English
Street Date: July 8, 2016
TCIN: 51498764
UPC: 9781533529817
Item Number (DPCI): 248-21-8026
---