product description page
Buddhism, Diplomacy, and Trade : The Realignment of India-China Relations, 600-1400 (Paperback) (Tansen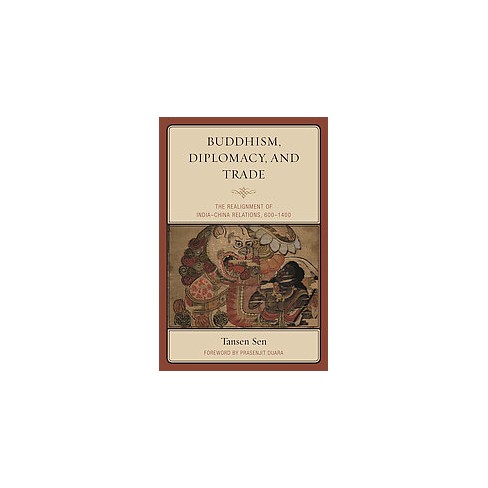 About this item
Relations between China and India underwent a dramatic transformation from Buddhist-dominated to commerce-centered exchanges in the seventh to fifteenth centuries. The unfolding of this transformation, its causes, and wider ramifications are examined in this masterful analysis of the changing patterns of the interaction between the two most important cultural spheres in Asia.
Tansen Sen offers a new perspective on Sino-Indian relations during the Tang dynasty (618–907), arguing that the period is notable not only for religious and diplomatic exchanges but also for the process through which China emerged as a center of Buddhist learning, practice, and pilgrimage. Before the seventh century, the Chinese clergy—given the spatial gap between the sacred Buddhist world of India and the peripheral China—suffered from a "borderland complex." A close look at the evolving practice of relic veneration in China (at Famen Monastery in particular), the exposition of Mount Wutai as an abode of the bodhisattva
Mañju
sri
, and the propagation of the idea of Maitreya's descent in China, however, reveals that by the eighth century China had overcome its complex and successfully established a Buddhist realm within its borders.
The emergence of China as a center of Buddhism had profound implications on religious interactions between the two countries and is cited by Sen as one of the main causes for the weakening of China's spiritual attraction toward India. At the same time, the growth of indigenous Chinese Buddhist schools and teachings retrenched the need for doctrinal input from India. A detailed examination of the failure of Buddhist translations produced during the Song dynasty (960–1279), demonstrates that these developments were responsible for the unraveling of religious bonds between the two countries and the termination of the Buddhist phase of Sino-Indian relations.
Sen proposes that changes in religious interactions were paralleled by changes in commercial exchanges. For most of the first millennium, trading activities between India and China were closely connected with and sustained through the transmission of Buddhist doctrines. The eleventh and twelfth centuries, however, witnessed dramatic changes in the patterns and structure of mercantile activity between the two countries. Secular bulk and luxury goods replaced Buddhist ritual items, maritime channels replaced the overland Silk Road as the most profitable conduits of commercial exchange, and many of the merchants involved were followers of Islam rather than Buddhism. Moreover, policies to encourage foreign trade instituted by the Chinese government and the Indian kingdoms contributed to the intensification of commercial activity between the two countries and transformed the China-India trading circuit int
Number of Pages: 305
Genre: History
Sub-Genre: Commerce, History
Format: Paperback
Publisher: Rowman & Littlefield Pub Inc
Author: Tansen Sen
Language: English
Street Date: September 11, 2015
TCIN: 46778040
UPC: 9781442254725
Item Number (DPCI): 247-52-1422