product description page
C++ and Python : C++ for Beginners and Python for Dummies to Learn Fast (Paperback) (Stanley Hoffman &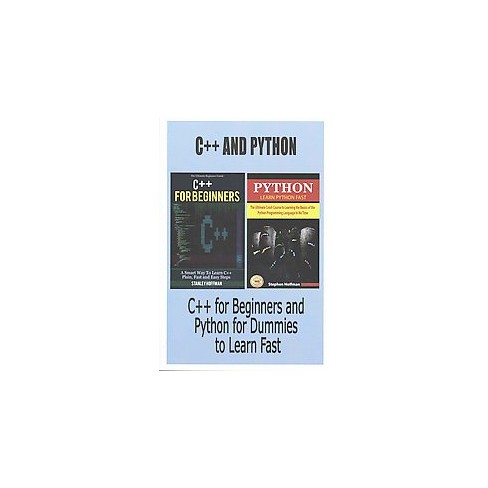 about this item
C++ and Python
Sale price. You will save 66% with this offer. Please hurry up!
C++
C++ for Beginners, C++ in 24 Hours, Learn C++ fast! A smart way to learn C plus plus. Plain & Simple. C++ in easy steps, C++ programming, Start coding today: The Ultimate Beginner's Guide, Fast & Easy!
Are you interested in learning more about the vibrant, new programming world of C++? Has your job description changed and you're looking for a way to make yourself relevant in the programming industry again? Then you might want to scroll up and grab a copy of this eBook on C++ programming for beginners. C++ is a modified version of its simpler counterpart, C. It is an object-oriented programming language that requires patience and determination to learn, but this books aims to help you with that. It will teach you what the programming language is and how it works, as well as how you can get started with it. So if you're ready to learn C++ today, then take a look at what's inside this eBook.
Python
Learn Python FAST - The Ultimate Crash Course to Learning the Basics of the Python Programming Language In No Time
Have you heard of the programming language Python? Would you like to learn more about this English-based programming language so that you can write programs that work? Then you want to scroll up and grab a copy of this eBook! Programming in Python is actually very simple when it comes down to it. If you have a grasp of the English language, then you're able to understand Python! In fact, that was the main point of coming up with this programming language back in the 1980's. The developer who founded this language wanted to create one that just about anyone could use and understand, and they succeeded! Python is a simple programming language that uses the English language and a rigid system of organizing code to help developers write code just about anyone can understand. Download your copy of "C++ and Python" by scrolling up and clicking "Buy Now With 1-Click" button.Tags: C Programming, C++programming, C++ programming language, HTML, Javascript, Programming, Developers, Coding, CSS, Java, PHP, C++, Javascript, PHP, Python, Sql, HTML, Swift, C++, C Programming, Programming for beginners, c plus plus, PHP, Java, C++ Programming for Beginners, c primer plus, C Programming for Beginners, C++, C Programming, Programming for beginners, c plus plus, PHP, Java, C++ Programming for Beginners , C Programming, C++programming, C++ programming language, HTML, Javascript, Programming, Developers, Coding, CSS, Java, PHP, What is Python, How to Install Python Programming, Variables and Types, Lists, Basic Operators, String Formatting, Conditions, Loops, Functions, Classes and Objects, Gener

Number of Pages: 95.0

Genre: Mathematics

Sub-Genre: Counting + Numeration

Format: Paperback

Publisher: Createspace Independent Pub

Author: Stanley Hoffman & Stephen Hoffman

Language: English

Street Date: October 21, 2015

TCIN: 50629604

UPC: 9781517550561

Item Number (DPCI): 248-09-4056
---