product description page
Electronic Software Download
Captain Toad: Treasure Tracker - Nintendo WiiU Digital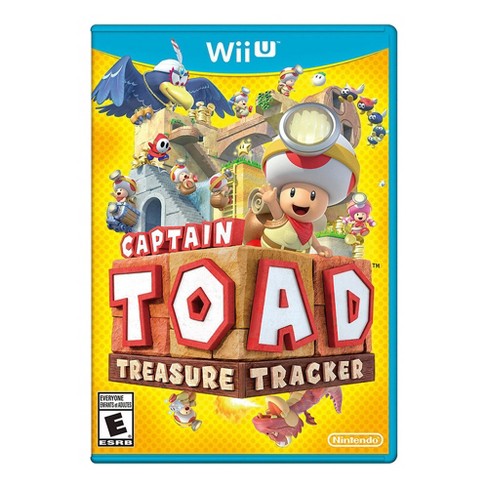 About this item
Highlights
Equipped with nothing more than a neck scarf, backpack and oversized head lamp, Captain Toad finds hidden gems, coins and power-ups on his way to the gold star at the end of each tricky, trap-filled stage.

Captain Toad isn't particularly fast or strong. He can't jump and he has no super powers. But he knows that sometimes, it's all about wits and perspective.

Twist the camera to reveal hidden locations and other secrets. The Wii U GamePad offers a closer view of the dangers and hidden items in each maze, and its gyro controls can also be used to peer around.

Captain Toad's world is brimming with life, with dangerous enemies, tricky platforms, nasty traps and secrets to uncover. Each stage is its own puzzle to solve, and littered throughout are hidden items in hard-to-reach places. Can you help our tiny adventurer survive to find them all?
What is Electronic Software Download or Digital Code product?
Electronic Software Download or Delivered product is just like box software equivalent. This is a full version of the software, usually with the exact same End User License Agreement (license/use rights). The customer downloads the product directly to their computer from the Publisher site or a secure source endorsed by the Publisher rather than installing from a disk. The download link, instructions and license key are set to the customer via email, usually in 1-3 hours from purchase (deliveries can take up to 24 hours). Product keys are available if lost, and product can be re-installed if needed. For Services, the key that is sent is all that is needed to activate the service from the manufacturer's site. Email communication will come from our service provider at (noreply@esd.synnex.com).

To redeem your download code, you will to use a partner's website. Target is not responsible for the content, products or services on our partner website.
Nintendo Captain Toad: Treasure Tracker WIIUReady for Adventure!The intrepid Captain Toad sets off on his own adventure for the very first time through a wide variety of tricky, enemy-infested, maze-like stages to find hidden gems and nab elusive gold stars.
Model Compatibility: Nintendo Wii U
ESRB Content Description: Mild cartoon violence
Electronics Condition: New
Video Game Genre: Action/adventure
Developer: Nintendo
IGN Support Element: Downloadable Content
Software Format: Download code in email
ESRB Age Rating: E - Everyone
TCIN: 53116211
UPC: 045496660376
Item Number (DPCI): 207-13-0208
Email delivery
download link sent by email after purchase