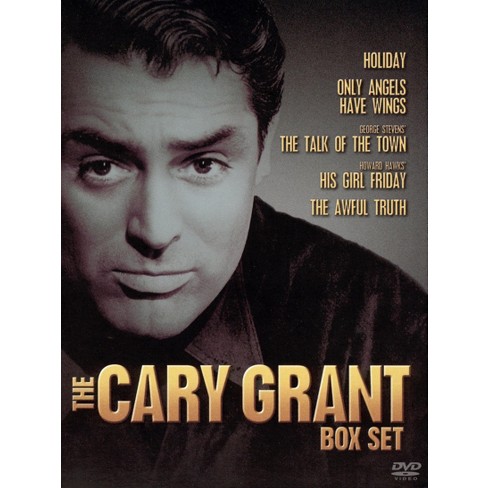 About this item
THE AWFUL TRUTH: In one of the supreme screwball comedies, young husband and wife Jerry and Lucy (Cary Grant and Irene Dunne), each suspicious that the other is having an affair, start divorce proceedings and see each other only when Jerry visits their dog, who is held in joint custody. The wonderful Leo McCarey directed THE AWFUL TRUTH, which was based on the 1922 play by Arthur Richman.

HIS GIRL FRIDAY: In Howard Hawks's screwball masterpiece adapted from the stage play THE FRONT PAGE by Ben Hecht and Charles MacArthur, star reporter Hildy Johnson (Rosalind Russell), once married to suave editor Walter Burns (Cary Grant), plans to leave the stressful newspaper world behind and marry a boring insurance agent. Walter won't reveal his feelings for Hildy but tries to keep her from leaving by convincing her to cover one last story, a politically motivated execution. Then the convict manages to escape, and Hildy finds herself working alongside Walter to break the story wide open. HIS GIRL FRIDAY is a loose, freewheeling gem featuring some of the fastest dialogue ever filmed (peppered with inspired ad-libbing by Grant and Russell, each appearing at comedic high points in their careers).

HOLIDAY: Katharine Hepburn and Cary Grant team up in this classic George Cukor comedy about love that finally finds its mark. Johnny (Grant) has just met the girl of his dreams, so he proposes; she happily accepts. However, he soon discovers that his lovely bride-to-be, Julia (Doris Nolan), comes from a wealthy Park Avenue family, with a father who likes to make all the decisions and whom she seems incapable of defying. Her unconventional sister, Linda (Hepburn), knows she wants something different from a mapped-out life; she also discovers she's falling in love with Johnny.

ONLY ANGELS HAVE WINGS: Geoff Carter (Cary Grant) is the head of a crumbling air freight service that's in desperate need of a replacement pilot. He is forced to hire a discredited aviator (Richard Barthelmess) who arrives with his wife (Rita Hayworth), Carter's ex-lover. Meanwhile, traveler Bonnie Lee (Jean Arthur) tries to get close to the emotionally closed-off Carter.

THE TALK OF THE TOWN: George Stevens's last film with Cary Grant represents yet another hit in his string of classic comedies. Grant stars as Leopold Dilg, a political activist who is wrongly indicted for arson and murder when a factory worker dies in a mill fire in the town of Sweetbrook. Believing that he'll be executed if he remains in jail, he escapes and breaks into a cottage that schoolteacher Nora Shelley (Jean Arthur) is preparing for Professor Michael Lightcap (Ronald Coleman), the dean of a law school.
Movie Category: Feature
Movie MPAA Rating: Nr
Movie Studio: Sony Pictures Home
Movie Genre: Drama
Movie Type: Sophisticated Comedy, Romantic Adventure, Romantic Comedy, Workplace Comedy, Buddy Film, Comedy of Errors, Domestic Comedy, Media Satire, Screwball Comedy, Farce
Movie Theme: Breakups and Divorces, Foibles of Marriage, Class Differences, Love Triangles, Members of the Press, Miscarriage of Justice, Otherwise Engaged, Work Ethics, Wedding Bells
Run Time: 0 (minutes)
Software Format: DVD
Language: English
Subtitle Language: French, portuguese, korean, spanish, english
Street Date: February 7, 2006
TCIN: 13695339
UPC: 043396134157
Item Number (DPCI): 246-07-0787
Shipping
In stock
- free standard shipping with REDcard