product description page
Catching Courage : How to Stop Hesitating, Take Control over Your Anxieties, and Believe in Yourself: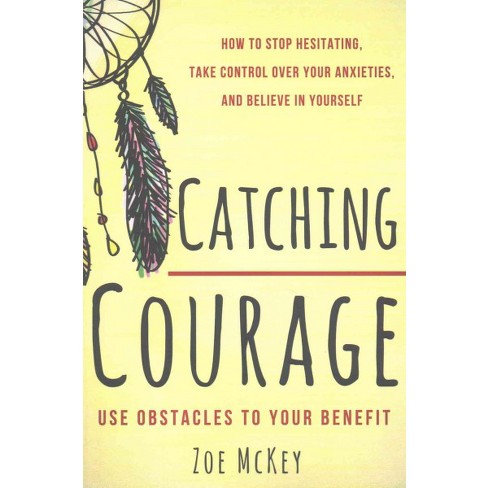 about this item
Do you stay silent because you fear rejection and judgment ? Are feelings of inadequacy and self-sabotage preventing you from living the life you want?Catching Courage gives you more than fearlessness – it gives you unshakable confidence in your own powers and chases away the feeling that you're not able to start or finish things. Say goodbye to the days when you let possibilities slip through your fingers.Be GUTSY in every situation life throws in your way.Catching Courage is a special book that will help you understand that courage is the necessary quality to build confidence. Self-doubt is a natural feeling but you can get over it. Impossible only exists if you believe it. Time to learn how to overcome the feeling of inferiority and achieve success. It takes you step by step through the process of how courage is built with the help of studies, personal stories and actionable exercises at the end of each chapter. Say goodbye to fear of rejection and inferiority complex once and for all.Catching Courage is ground zero to any kind of life improvement. How do I know this? I am currently the author of multiple best-selling books in the United States being a non-English speaker! I could do it, and you also can whatever you wish for! The only barrier between you and success can be this one quality: courage to take chances today what others plan on doing tomorrow. What tools will Catching Courage give you to become more courageous:- A special S.W.O.T. analysis sample to rightfully judge your challenges. - 2-3 tailor-made exercises to each chapter for maximal improvement. - 4 actionable steps to detect and overcome different type of fears. - My unique T.I.M.E. method to make prioritizing super easy. How will you live courageously?- By learning how to unleash your curiosity. - Having the guts to be the decision maker of your life. - By learning to do what's necessary first. - Become mentally prepared to any challenge. After all, courage is the key of a life full of adventures worth living for.Courage opens you the door to shape your world based on your desires. It helps you to seize the goals that you've always longed for, and thought that were impossible to do. Escape your fears and stop self-sabotaging, know that living a full life doesn't mean the absence of fear, but the will to take the risk and do it anyway. Turn your insecurities into action and see how your life is going to change into a daring adventure.
Number of Pages: 128.0
Genre: Self Improvement
Format: Paperback
Publisher: Createspace Independent Pub
Author: Zoe Mckey
Language: English
Street Date: October 11, 2016
TCIN: 52097317
UPC: 9781539465713
Item Number (DPCI): 248-41-4037
---