product description page
Comparative Politics of the Global South : Linking Concepts & Cases (Paperback) (December Green & Laura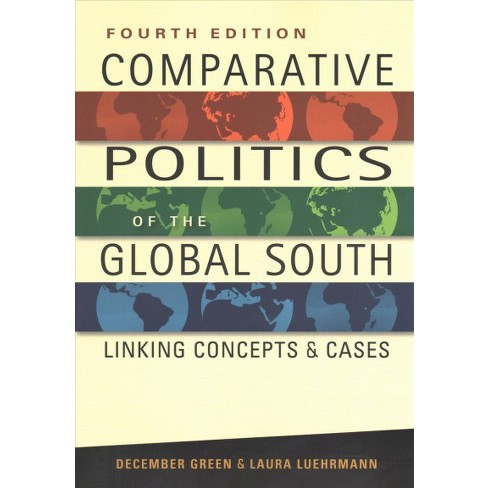 About this item
In this now classic text, December Green and Laura Luehrmann show how history, economics, and politics converge to create the realities of life in the Global South. The authors offer an innovative blend of theory and empirical material as they introduce the politics of what was once called the "third world." They consistently link theoretical concepts to a set of eight contemporary case studies: China, Egypt, Indonesia, Iran, Mexico, Nigeria, Peru, and Zimbabwe. Features of the fourth edition, revised and updated from cover to cover, include: An entirely new case study, Egypt; Analysis of the status of regime transitions around the world; A "report card" on the Millennium Development Goals; Attention to the UN Global Goals for Sustainable Development and the New Development Bank; More discussion of contentious politics, social mobilization and everyday forms of resistance; New material on such continuing challenges as migration, human trafficking, weapons proliferation, pandemic diseases, and the impact of climate change; An assessment of continuity and change in international relations, with particular attention to policies during the Obama presidency and the significance for the global south of the new US administration. The result is a text that has been successfully designed to challenge students' preconceptions, arouse their curiosity, and foster critical thinking.
CONTENTS
Comparing and Defining a Complex World.
HISTORICAL LEGACIES.
Precolonial History: What Once Was, and Why It Matters.
How Colonialism Changed Everything.
Independence: In Name Only?
ECONOMIC REALITIES.
Sustainable Human Development: A Progress Report.
Adjustments, Conditions, and Alternatives.
POLITICS AND POLITICAL CHANGE.
Civil Society Takes on the State.
Militaries, Militias, Guerrillas, and Terrorists.
Transitions: Democracy, Dictatorship, and the Messy Middle.
Authoritarian Backlash: Freedom in Decline?
THE INTERNATIONAL SYSTEM.
Sovereignty and the Role of International Organizations.
Confronting Global Challenges.
Global South Perspectives on the United States.
CONCLUSION.
Looking Forward: Contested Images of Power.
Number of Pages: 563
Genre: Political Science
Format: Paperback
Publisher: Lynne Rienner Pub
Author: December Green & Laura Luehrmann
Language: English
Street Date: July 12, 2017
TCIN: 52224528
UPC: 9781626376502
Item Number (DPCI): 248-43-9191