product description page
Complete Pug Handbook (Paperback) (Linda Whitwam)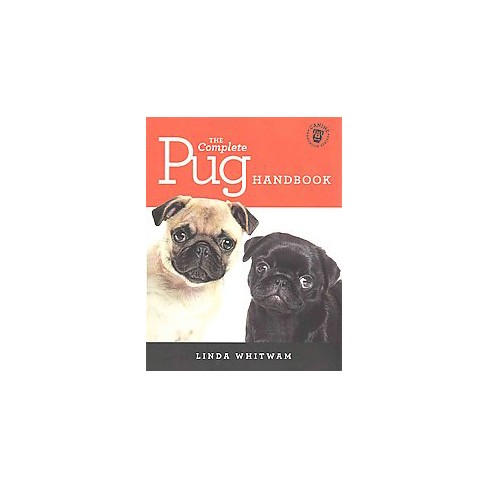 about this item
The Complete Pug Handbook is an absolute must for anyone getting a Pug puppy, adult or rescue dog.
New Pug owners have so many questions. Imagine if you could call on a couple of dozen Pug experts to provide the answers… Well now you can! Canine author Linda Whitwam has teamed up with experienced Pug breeders and professionals on both sides of the Atlantic to produce the most insightful and informative book on Pugs yet.
The 272 pages are packed full of information and insider tips on everything you'll ever need to know about caring for and living with one (or more if you get the Pug bug) of these unique and highly affectionate dogs. Find out what Pug breeders have to say on a host of subjects, including the special care needed by this breed, what NOT to do when you bring your pup home, crate training, housetraining, obedience training, feeding - including raw diets and special diets - typical Pug traits, what Pugs love…and hate (like going out in the rain!) and advice on how to care for your dog as he or she ages.
The Complete Pug Handbook covers looking after a Pug from the litter to old age. For anyone who hasn't chosen their Pug yet, there's:
How to Find a Good Breeder, The Questions to Ask, Where NOT to Buy a Pug From, Picking a Healthy Puppy or Adult Dog, The Temperament of The Pug, How to Pick a Puppy With the Right Temperament For You, Pug Proofing Your Home and Rescue Pugs.
Once you bring your Pug home, the book guides you through the first days and weeks, coveringHousetraining, Crate Training, Obedience Training, Understanding Your Dog's Personality and Socialising your Dog.There are over 20 pages on Feeding a Pug with all the options explained, including Feeding Puppies, Feeding Charts, Calorie Counters, How to Read Dog Food Labels and Feeding Senior Dogs. There's even a chapter on Showing Pugs written by a leading breeder and Championship Show judge.
More than 60 pages are devoted to Pug Health, Skin and Allergies with tried and tested medical and holistic treatments. This book could save you a fortune in vets' bills - not only by helping you to choose a healthy dog, but you'll also learn aboutKeeping your Pug Healthy, the Puggy Facts of Life, Spaying, Neutering, Vaccinations, Worming, De-Fleaing and Grooming.
The Pug, like a lot of brachycephalic (flat-faced) breeds, is a unique breed requiring a little extra care from their humans. This book will arm you with all the specialist knowledge you'll ever need for the challenge of owning one of these highly rewarding and very lovable dogs.
Reviews for the Canine Handbooks:
"Remarkable book - very informative and comprehensive. It is not to be missed, even seasoned bulldoggers could stand to learn a few things from this book."W. SHOPLAND, of EXTREMEBULLS, MIDDLESEX, UK (Bulldog Handbook)
Number of Pages: 272.0
Genre: Pets
Sub-Genre: Dogs / Breeds
Series Title: Canine Handbooks
Format: Paperback
Publisher: Createspace Independent Pub
Author: Linda Whitwam
Language: English
Street Date: September 29, 2015
TCIN: 50509890
UPC: 9781500439194
Item Number (DPCI): 248-07-8887
---