product description page
Concrete Blonde / the Last Coyote / Trunk Music (Unabridged) (MP3-CD) (Michael Connelly)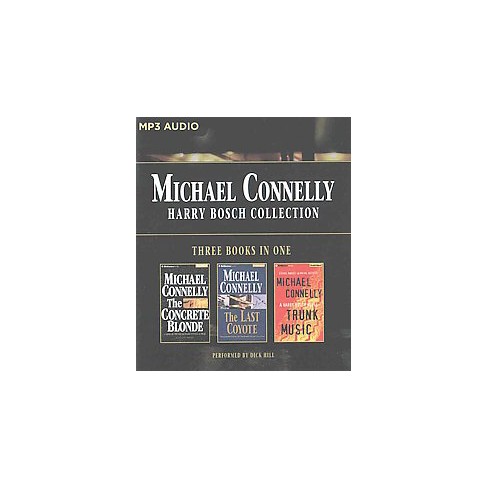 $13.49
MSRP
Reg: $14.99 Save $1.50 (10% off)
About this item
The Concrete BlondeThe Dollmaker was the name of the serial killer who had stalked Los Angeles ruthlessly, leaving grisly calling cards on the faces of his victims. Now, with a single faultless shot, Harry Bosch thinks he has ended the city's nightmare.
But the dead man's widow is suing Harry and the LAPD for killing the wrong man—an accusation that rings terrifyingly true when a new victim is discovered with the Dollmaker's macabre signature.
So, for the second time, Harry must hunt down a death-dealer who is very much alive, before he strikes again. It's a blood-tracked quest that will take Harry from the hard edges of the L.A. night to the last place he ever wanted to go—the darkness of his own heart.
The Last CoyoteHarry attacked his commanding officer and is suspended indefinitely, pending a psychiatric evaluation. At first he resists the LAPD shrink, but finally recognizes that something is troubling him and has for a long time. In 1961, when Harry was twelve, his mother, a prostitute, was brutally murdered with no one ever accused of the crime.
With the spare time a suspension brings, Harry opens up the thirty-year-old file on the case and is irresistibly drawn into a past he has always avoided. It's clear that the case was fumbled and the smell of a cover-up is unmistakable. Someone powerful was able to divert justice and Harry vows to uncover the truth. As he relentlessly follows the broken pieces of the case, the stirred interest causes new murders and pushes Harry to the edge of his job…and his life.
Trunk MusicBack on the job after an involuntary leave of absence, LAPD homicide detective Harry Bosch is ready for a challenge. But his first case is a little more than he bargained for. It starts with the body of a Hollywood producer in the trunk of a Rolls-Royce, shot twice in the head at close range—what looks like "trunk music," a Mafia hit.
But the LAPD's organized crime unit is curiously uninterested, and when Harry follows a trail of gambling debts to Las Vegas, the case suddenly becomes more complex—and much more personal. A rekindled romance with an old girlfriend opens new perspectives on the murder, and he begins to glimpse a shocking triangle of corruption and collusion. Yanked off the case, Harry himself is soon the one being investigated. But only a bullet can stop Harry when he's searching for the truth.…
Edition: Unabridged
Genre: Fiction + Literature Genres
Sub-Genre: Suspense
Series Title: Harry Bosch Collection
Format: Mp3_cd
Publisher: Brilliance Audio
Author: Michael Connelly
Language: English
Street Date: February 23, 2016
TCIN: 50988738
UPC: 9781511386821
Item Number (DPCI): 248-14-1129