product description page
Constitutional Rights : Cases in Context - by Randy E. Barnett & Josh Blackman (Hardcover)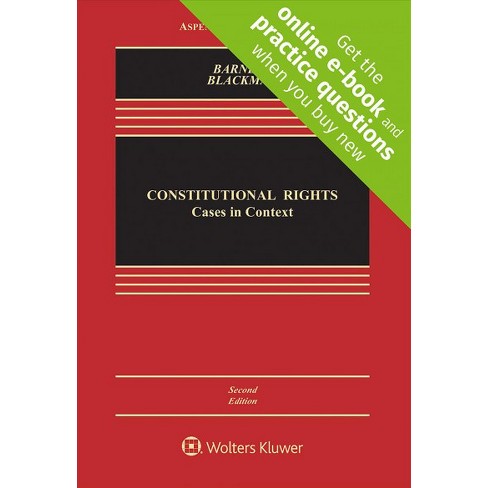 About this item
Buy a new version of this Connected Casebook and receive access to the online e-book, practice questions from your favorite study aids, and an outline tool on CasebookConnect, the all in one learning solution for law school students. CasebookConnect offers you what you need most to be successful in your law school classes – portability, meaningful feedback, and greater efficiency. This looseleaf version of the Connected Casebook does not come with a binder.
Constitutional Rights: Cases in Context, Second Edition places primary emphasis on how constitutional law has developed since the Founding, its key foundational principles, and recurring debates. By providing both cases and context, it conveys the competing narratives that all lawyers ought to know and all constitutional practitioners need to know. Teachable, manageable, class-sized chunks of material are suited to one-semester courses or reduced credit configurations. Generous case excerpts make the text flexible for most courses. Cases are judiciously supplemented with background readings from various sources. Innovative study guide questions presented before each case help students focus on the salient issues, challenging them to consider the court's opinions from various perspectives, and suggesting comparisons or connections with other cases.
Key Benefits:
Revised doctrinal areas with newer cases.
Updated background contextual material to reflect current scholarship.
A highly accessible and engaging structure that examines the competing narratives that pervade the development of American constitutional law since the founding.
Related cases are grouped together into "assignments" and make for a reasonable amount of reading for each topic.
A wealth of photographs, maps, and primary documents to bring the cases to life.
CasebookConnect features:
ONLINE E-BOOK
Law school comes with a lot of reading, so access your enhanced e-book anytime, anywhere to keep up with your coursework. Highlight, take notes in the margins, and search the full text to quickly find coverage of legal topics.
PRACTICE QUESTIONS
Quiz yourself before class and prep for your exam in the Study Center. Practice questions from Examples & Explanations, Emanuel Law Outlines, Emanuel Law in a Flash flashcards, and other best-selling study aid series help you study for exams while tracking your strengths and weaknesses to help optimize your study time.
OUTLINE TOOL
Most professors will tell you that starting your outline early is key to being successful in your law school classes. The Outline Tool automatic
Number of Pages: 729
Genre: Freedom + Security / Law Enforcement
Series Title: Aspen Casebook
Format: Hardcover
Publisher: Wolters Kluwer Law & Business
Author: Randy E. Barnett & Josh Blackman
Language: English
Street Date: December 11, 2017
TCIN: 53300061
UPC: 9781454896784
Item Number (DPCI): 248-61-1479