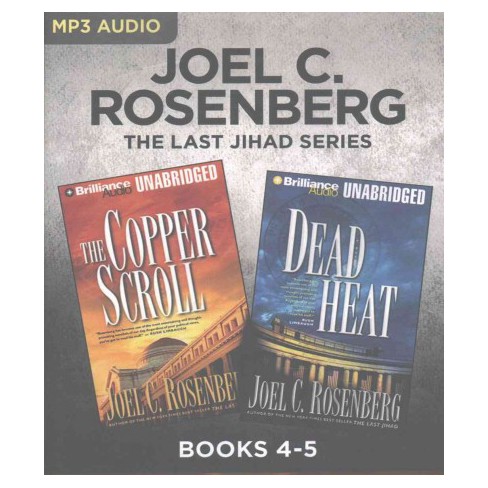 About this item
THE COPPER SCROLLOn June 1, 1956, the New York Times broke a story that captured the imagination of the world. Another Dead Sea Scroll had been found, unlike any before it, describing unimaginable treasures worth untold billions buried in the hills east of Jerusalem and under the Holy City itself.
In the years that followed, scholars came to believe that THE COPPER SCROLL COULD BE HISTORY'S GREATEST TREASURE MAP, one that could not only lead to the treasures but pave the way to the building of the Third Jewish Temple.
But the scroll's code has never been broken, and experts from all sides warn that any effort by Israel to rebuild their Temple in Jerusalem would unleash a war of biblical proportions.
Now, exactly fifty years after the Copper Scroll was unveiled, New York Times bestselling author Joel C. Rosenberg takes you on his most exciting and heart-pounding ride yet.
SADDAM HUSSEIN IS GONE.
YASSER ARAFAT IS DEAD.
A NEW IRAQ IS RISING.
Now White House advisors Jon Bennett and Erin McCoy find themselves facing a terrifying new threat triggered by an ancient mystery.
DEAD HEATOil prices are surging to record highs.
A new dictator is rising in Iraq.
China is threatening Taiwan.
North Korean forces are ready to strike south.
Israel is feverishly trying to complete the Third Temple.
And in the midst of a world ready to explode, American president James MacPherson's second term is ending.
The battle to succeed him is heating up into the most fiercely contested presidential election in American history. Who will lead a bitterly divided country over the next four years? And just what role - if any - does the U.S. play in history's last days?
As the presidential campaign narrows into a dead heat, the Secret Service learns of a catastrophic terrorist plot to assassinate one of the candidates - but which one? Who do they want dead? And can U.S. forces stop the terrorists before millions lose their lives?
"…his novels seem to be ripped from the headlines - next year's headlines." Washington Times
"For many adults Joel Rosenberg is the it author right now. Inside and outside the Beltway in Washington, people are snatching up copies of his almost lifelike terrorist suspense novels." CNN Headline News
Genre: Fiction + Literature Genres
Series Title: Last Jihad
Format: Mp3_cd
Publisher: Brilliance Audio
Author: Joel C. Rosenberg
Language: English
Street Date: February 24, 2017
TCIN: 52170268
UPC: 9781536673180
Item Number (DPCI): 248-42-9193
$13.49
MSRP
Reg: $14.99 Save $1.50 (10% off)