product description page
Core Color Plan : Use Color With Intention for Greater Well-Being & Productivity (Paperback) (Debra A.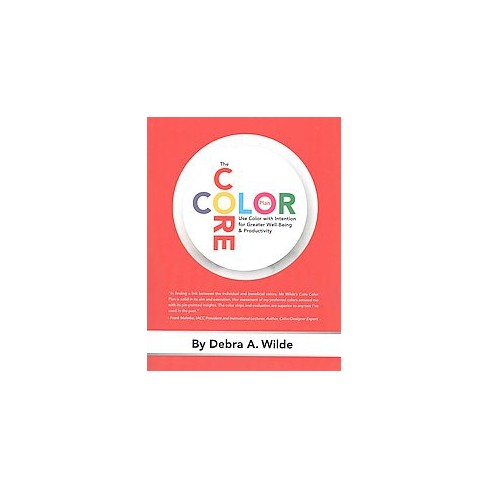 about this item
The Core Color Plan is about color design, observing your personal responses and discovering what is evoked intuitively as human beings interact with color. Understanding your relationship to color can give you access to your deepest self. Human response to color has ben a topic of scientific study for decades. Several in-depth analyses are included in the bibliography. The Core Color Plan is informed by scientific studies, combined with my own experiences as a student of the International Association of Color Consultant/Designer Academy and over decades of working with clients in my interior design practice. The results of my questionnaire have empowered and delighted my customers. With this book, tools of my trade are made accessible to all. The Core Color Plan will help you: Discover what drives, motivates and inspires you, Look at product design with new eyes, Gain Perspective about your unique purpose and how to express it.The Core Color Plan is a tool for exploring new inner and outer terrain through color preferences. Intellectually we may grasp the power of color, but we are often moved and affected by color in ways that we cannot express verbally or logically. The Core Color Plan Questionnaire is the first step in the Core Color Plan. It contains nine questions, which you will answer with your choice of Core Colors to create a Color Signature and unique pattern. The Color Archetypes provide insight and understanding into your color preferences. As sensory perceptions with energetic qualities, Color Archetypes define the psycho-physiological, associative, symbolic and emotive qualities of color--each has its own character, voice and personality.Our sense of vision influences us 10x more than our other senses. Because of this fact, the ability to harness colors and tones in our environment as creative force is to our benefit. Color is a creative tool for producing well-being, productivity, happiness and much more. By the same token, color can affect us adversely, if misused or carelessly applied. Within the enduring spaces of our homes, work spaces, cars and clothing; meaningful, self-awareness of the frequencies with which we resonate plays an integral and beneficial role in life. To create harmony and balance with in the spaces of your life, discover and combine your personal frequencies with environmental psychology. Our fast-paced, contemporary world demands focus and ultimately, a psychology of being true to ourselves. For those who love creating products, color designs congruent with the purpose and function of the object can be used to create clear messaging and creative coherence. The Personal Relationship to color is the keystone of the modern, individual color experience.
Number of Pages: 126.0
Genre: Art
Format: Paperback
Publisher: Createspace Independent Pub
Author: Debra A. Wilde
Language: English
Street Date: April 25, 2016
TCIN: 51259751
UPC: 9781532776618
Item Number (DPCI): 248-18-1997
---