product description page
Cornyation : San Antonio's Outrageous Fiesta Tradition (Paperback) (Amy L. Stone)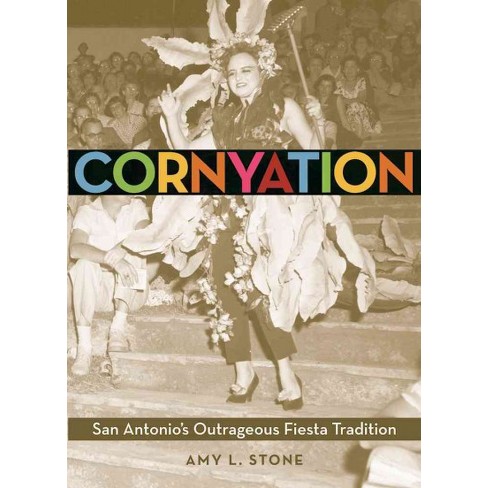 About this item
Fiesta San Antonio began in 1891 with a parade, the Battle of Flowers, in honor of the battles of the Alamo and San Jacinto. Similar in many ways to Mardi Gras, the parade has evolved into a ten-day annual festival in April attended by four million with more than a hundred colorful and cultural events raising money for nonprofit organizations in San Antonio, Texas.
Cornyation has played an important role in the transformation of Fiesta. When Fiesta began, many of the events were exclusive and run by San Antonio social elites. One of the most prominent events was the Coronation of the Queen of the Order of the Alamo, a lavish debutante pageant that crowned a queen of the festival. Cornyation was created in 1951 by members of the San Antonio Little Theater as a stage show and satire of the Coronation of the Queen, mocking the elite by creating their own flamboyant duchesses, empresses, and queens, often represented as men in drag and local political figures in off-color situations and outrageous costumes.
The show quickly evolved into a controversial parody of local and national politics and culture, and by the end of the decade the Cornyation culture had helped to shift Fiesta into a more inclusive citywide event. While this was not the show's intention, Cornyation allowed women and men from across the city to participate in Fiesta and created a space for satirical humor directed at a more mainstream audience. Although kicked out of Fiesta in the mid-1960s for vulgarity, in the 1980s the event was revived in a gay bar in downtown San Antonio and went on to become one of the most popular events of the festival, with six stage shows selling out annually to more than ten thousand people.

Cornyation is the first history of this major Fiesta San Antonio event, tracing how it has become one of Texas's iconic and longest-running LGBT events, and one of the Southwest's first large-scale fundraisers for HIV-AIDS research, raising more than $2.5 million since 1990.
More than one hundred vintage and contemporary photographs and hundreds of oral histories and stories document the show's history, highlighting the fact that it has always been a ?party with a purpose" that attracts a broad audience, satirizes elites and politics, and creates a place for the public display of campy gay humor. Cornyation tells the story of this important LGBTQ event in the context of San Antonio, the Fiesta festival, and the growth of the gay and lesbian community in the Southwest.
Number of Pages: 162
Genre: History
Format: Paperback
Publisher: Pgw
Author: Amy L. Stone
Language: English
Street Date: April 11, 2017
TCIN: 51773603
UPC: 9781595348005
Item Number (DPCI): 248-33-8697