product description page
D Web Development : Leverage the Power of D and the Vibe.d Framework to Develop Web Applications That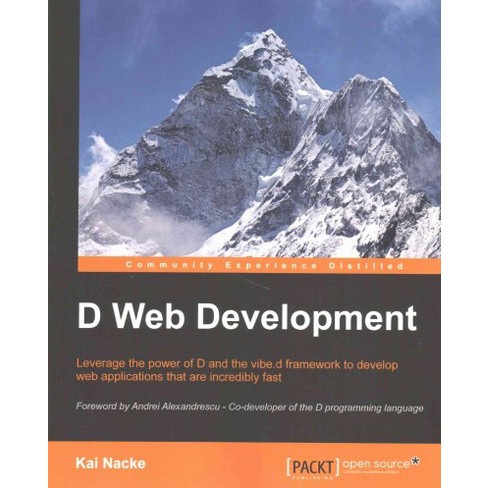 about this item
Leverage the power of D and the vibe.d framework to develop web applications that are incredibly fast
About This Book
Utilize the elegant vibe.d framework to build web applications easily and REST backends with the D programming language
Learn about all components of vibe.d to enhance your web development with D
A hands-on guide to the vibe.d framework; from static web pages to template-based, interactive and localized web applications with database access and REST backends
Who This Book Is For
Whether you are new to the world of D, or already have developed applications in D, or if you want to leverage the power of D for web development, then this book is ideal for you. Basic knowledge of core web technologies like HTML 5 is helpful but not required. This book explains the difficult details to speed your web development.
What You Will Learn
Create amazingly fast web applications with D
Use Diet templates to easily create a web user interface
Utilize the web framework for interactive applications with input validation and internationalization
Access a database to provide persistent storage for your application
Extend your application with a REST interface and access other applications via REST
Understand vibe.d's fiber-based approach to asynchronous I/O and use it for integration of existing components
Create GUI applications with vibe.d
In Detail
D is a programming language with C-like syntax and static typing. The vibe.d framework builds on powerful D concepts like template meta-programming and compile-time function execution to provide an easy-to-use environment for web applications. The combination of a feature-rich web programming framework with a language compiling to native code solves two common issues in web development today: it accelerates your development and it results in fast, native web applications. Learning the vibe.d framework before you start your application will help you to choose the right features to reach your goal.
This book guides you through all aspects of web development with D and the vibe.d framework.
Covering the popular operating systems today, this guide starts with the setup of your development system. From the first Hello World-style application you will move on to building static web pages with templates. The concise treatment of web forms will give you all the details about form handling and web security. Using the abstractions of the web framework you will learn how to easily validate user input. Next, you will add database access to your application, providing persistent storage for your data. Building on this foundation, you will expose your component and integrate other components via REST. Learning about the internals of vibe.d you will be able to use low-level techniques such as raw TCP access. The vibe.d concepts can also be used for GUI clie
Number of Pages: 172.0
Genre: Computers + Internet
Format: Paperback
Publisher: Lightning Source Inc
Author: Kai Nacke
Language: English
Street Date: January 31, 2016
TCIN: 51261348
UPC: 9781785288890
Item Number (DPCI): 248-18-3268
---