product description page
Demobilized Veterans in Late Stalinist Leningrad : Soldiers to Civilians (Paperback) (Robert Dale)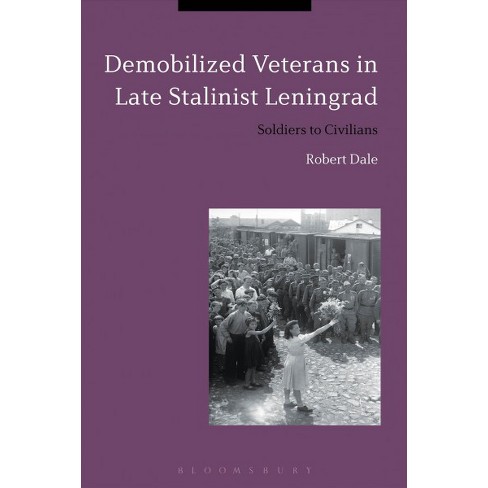 About this item
This book investigates the demobilization and post-war readjustment of Red Army veterans in Leningrad and its environs after the Great Patriotic War. Over 300,000 soldiers were stood down in this war-ravaged region between July 1945 and 1948. They found the transition to civilian life more challenging than many could ever have imagined. For civilian Leningraders, reintegrating the rapid influx of former soldiers represented an enormous political, economic, social and cultural challenge. In this book, Robert Dale reveals how these former soldiers became civilians in a society devastated and traumatized by total warfare.
Dale discusses how, and how successfully, veterans became ordinary citizens. Based on extensive original research in local and national archives, oral history interviews and the examination of various newspaper collections, Demobilized Veterans in Late Stalinist Leningrad peels back the myths woven around demobilization, to reveal a darker history repressed by society and concealed from historiography. While propaganda celebrated this disarmament as a smooth process which reunited veterans with their families, reintegrated them into the workforce and facilitated upward social mobility, the reality was rarely straightforward. Many veterans were caught up in the scramble for work, housing, healthcare and state hand-outs. Others drifted to the social margins, criminality or became the victims of post-war political repression.
Demobilized Veterans in Late Stalinist Leningrad tells the story of both the failure of local representatives to support returning Soviet soldiers, and the remarkable resilience and creativity of veterans in solving the problems created by their return to society. It is a vital study for all scholars and students of post-war Soviet history and the impact of war in the modern era.
Number of Pages: 288
Genre: History
Format: Paperback
Publisher: Bloomsbury USA Academic
Author: Robert Dale
Language: English
Street Date: April 20, 2017
TCIN: 52095925
UPC: 9781350031234
Item Number (DPCI): 248-41-0493