product description page
DevOps Automation Cookbook (Paperback) (Michael Duffy)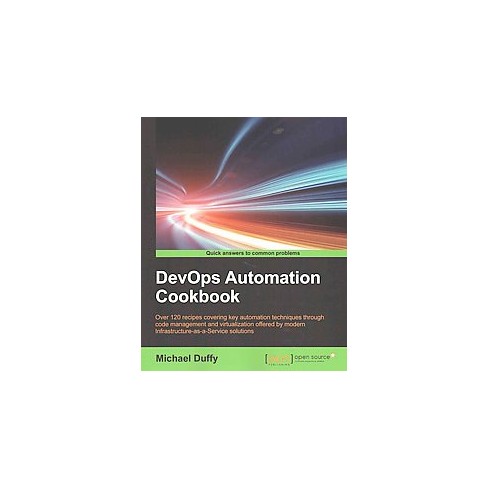 about this item
Over 120 recipes covering key automation techniques through code management and virtualization offered by modern Infrastructure as a Service
About This Book
Use some of the powerful tools that have emerged to enable systems administrators and developers to take control and automate the management, monitoring, and creation of complex infrastructures
Covers some of the most exciting technologies available to DevOps engineers, and demonstrates multiple techniques for using them
A hands-on guide filled with clear examples and multiple methodologies to demonstrate the various DevOps tools available
Who This Book Is For
If you are a systems administrator or developer who is keen to employ DevOps techniques to help with the day-to-day complications of managing complex infrastructures, then this book is for you. No prior knowledge of DevOps tools is required.
What You Will Learn
Manage, use, and work with code in the Git version management system
Manage the life cycle of hosts, from creation to on-going management, using Puppet Razor
Create hosts automatically using a simple combination of TFTP, DHCP, and pre-seeds
Implement virtual hosts using the ubiquitous VMware ESXi hypervisor
Control configuration using the powerful and popular Ansible configuration management system
Develop powerful, consistent, and portable containers using Docker
Track trends, discover data, and monitor key systems using InfluxDB, syslog, and Sensu
Deal efficiently with powerful cloud infrastructures using the Amazon AWS Infrastructure as a Service and the Heroku Platform as a Service
In Detail
There has been a recent explosion in tools that allow you to redefine the delivery of infrastructure and applications, using a combination of automation and testing to deliver continuous deployment. DevOps has garnered interest from every quarter, and is rapidly being recognized as a radical shift, as large as the Agile movement for the delivery of software.
This book takes a collection of some of the coolest software available today and shows you how to use it to create impressive changes to the way you deliver applications and software. It tackles the plethora of tools that are now available to enable organizations to take advantage of the automation, monitoring, and configuration management techniques that define a DevOps-driven infrastructure.
Starting off with the fundamental command-line tools that every DevOps enthusiast must know, this book will guide you through the implementation of the Ansible tool to help you facilitate automation and perform diverse tasks. You will explore how to build hosts automatically with the creation of Apt mirrors and interactive pre-seeds, which are of the utmost importance for Ubuntu automation. You will also delve into the concept of virtualization and creating and manipulating gu
Number of Pages: 310.0
Genre: Computers + Internet
Sub-Genre: Networking / General
Format: Paperback
Publisher: Lightning Source Inc
Author: Michael Duffy
Language: English
Street Date: November 30, 2015
TCIN: 51197192
UPC: 9781784392826
Item Number (DPCI): 248-17-5371
---