product description page
Diy Projects : Renewing Old Clothes; 25 Amazing Diy Ideas (Paperback) (Susan Hawkins)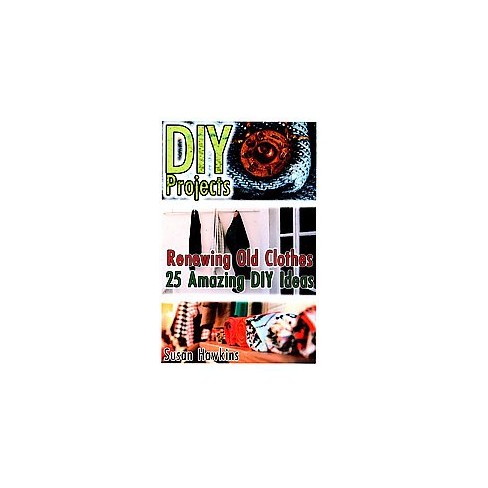 about this item
Getting Your FREE Bonus
Download this book, read it to the end and see "BONUS: Your FREE Gift" chapter after the conclusion.
DIY Projects: Renewing Old Clothes25 Amazing DIY Ideas
Marketers, driving maximum benefit of the changing lifestyle of people due to the drastically changing consumption pattern, are coming up with novel and unique products that have entirely altered the dynamics of the living styles of people. Due to the creation of this opportunity, we see that the market is flooded, after every short span of time, with abundant of new things for the people to buy and use and make our lives easier, which we could not have imagined some couple of decades ago. Life has become so much easy with the invention of machines which are upgraded and modified, from time to time, not only in design but in functionality as well, to help us to perform simple tasks of routine in a matter of few minutes or hours which used to take months or a lot of time to be done.
As people have become much aware of their surroundings and have become more savvy about what is best for them and what they want and how they want a thing, there is a concept seen to have unfurl in which people like to do their work all by their own. The concept is known as "Do it yourself-DIY", and according to this concept, people tend to make things or get their work done by themselves, without any kind of assistance from outside. This e-book, will give you an insight about the fundamental concept of this phrase "Do it Yourself", the benefits of this notion and will throw light on the most amazing ways to salvage your old clothes into new ones with the help of 25 best DIY ideas.
Download your E book "DIY Projects: Renewing Old Clothes. 25 Amazing DIY Ideas" by scrolling up and clicking "Buy Now with 1-Click" button!
Genre: House + Home
Sub-Genre: Do-It-Yourself / General
Format: Paperback
Publisher: Createspace Independent Pub
Author: Susan Hawkins
Language: English
Street Date: December 21, 2015
TCIN: 51102771
UPC: 9781522857112
Item Number (DPCI): 248-15-5680
---