product description page
Don't Change a Thing : Discovering Freedom in the Recovery from Spirituality (Paperback) (Joey Lott)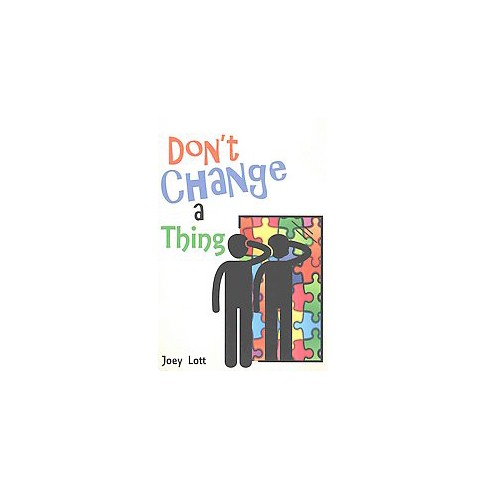 about this item
Tired of trying to attain spiritual perfection?
Do you feel under pressure to dedicate your life to the pursuit of spiritual perfection? Do you struggle with the popular notions of abstinence and non-attachment as the only possible means of enlightenment? Are you tired of worrying about the karmic consequences of every decision you make? Relax! In Don't Change A Thing, Joey Lott shares a simple truth which will make your life infinitely easier.
Can I really stop worrying?
Yes! Whilst many of us are deluded into believing that spirituality is a real and noble pursuit, Lott presents the view that the pursuit of spirituality is not only futile, but also the cause of much suffering; in fact, it's nothing more than a sham which keeps us constantly seeking more when all along we are perfect as we are. He argues that spirituality is a fictional cure for a fictional problem, which means that you can stop worrying and relax! " . . . relax, let go, enjoy your life, and eat some cake. Just saying."
So how do I achieve perfection?
It's simple. You don't! You can't achieve what you already are. Lott teaches us to let go of all our preconceptions and fears; "The discovery of yourself as you are is the discovery of yourself as true freedom." There's no need to worry over feeling anxious, or angry, or experiencing sexual urges or indulging generally in bad habits. None of it matters. You should welcome all experiences. The behaviors we're taught to fret over are nothing more than a fiction that we shouldn't concern ourselves with.
Want to know exactly how to free yourself of this fiction? "How do you discover yourself as you are? How do you neither resist nor indulge?" – readDon't Change A Thing today!
Number of Pages: 75.0
Genre: Self Improvement
Sub-Genre: Spiritual
Format: Paperback
Publisher: Createspace Independent Pub
Author: Joey Lott
Language: English
Street Date: October 20, 2015
TCIN: 50532754
UPC: 9781518666520
Item Number (DPCI): 248-08-0410
---