product description page
Dr. Vlassara's A.G.E.-Less Diet : How Chemicals in the Foods We Eat Promote Disease, Obesity, and Aging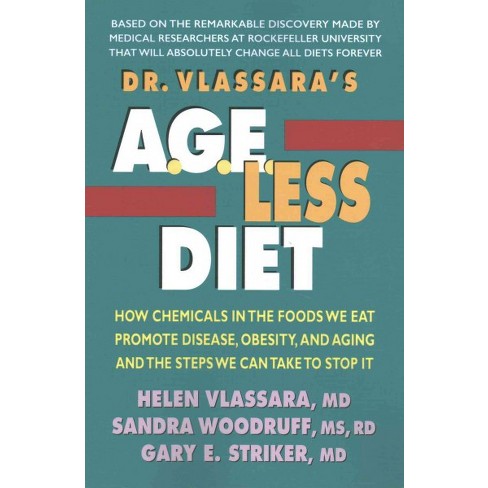 About this item
Imagine naturally occurring toxins that form in the body and are directly responsible for inflammation, chronic diseases, and aging. While that may not have been what Dr. Helen Vlassara was looking for when she began her work at the research laboratories of Rockefeller University, it was what her pioneering team discovered in 1985. Initially, the group's mission was to better understand why patients with diabetes were prone to develop heart, eye, kidney, nerve, and circulatory disorders, as well as other signs of premature aging. It was obvious that over time, these disorders would diminish a diabetic's quality of life. But what was the factor that created such havoc in the patient's body? The team focused on a class of compounds they discovered, naming themadvanced glycation endproducts, which they shortened toAGEs.
Through her research, Dr. Vlassara learned that diabetics have higher levels of AGEs than healthy individuals, but she wasn't sure what increased the production of this substance in the patient's body. Up to that point, researchers believed that these compounds, which were also present in foods, could not be absorbed during digestion. But the doctor demonstrated that this was not the case—AGEs could, in fact, enter the body through the digestive tract. As she studied the effects of AGEs on lab mice, she learned how truly devastating AGEs were on the body and its organs. Each and every study she and her colleagues undertook revealed the difference between an AGE-laden diet and an AGE-less diet. AGEs simply accelerated the body's aging process by increasing oxidation and free radicals, hardening tissue, and creating chronic inflammation. The groundbreaking studies were published in peer-reviewed journals throughout the world.
Yet this amazing study remains relatively unknown to the public and even the medical community—until now. Dr. Helen Vlassara and best-selling author Sandra Woodruff have written a complete guide to understanding what AGEs are and what you can do to avoid them. In Dr. Vlassara's AGEless Diet, the authors offer simple principles that can be applied to the way you cook—and to any popular diet—to lower your intake of AGEs. They also include an AGE ranking of foods as well as recipes that reduce your consumption of AGEs.
Every once in a while, a discovery is made that transforms the way we live. By lowering your AGE levels, you can reduce the potential of developing any number of serious disorders, look years younger, and enjoy greater health and longevity.Dr. Vlassara's AGE-less Diet guides you in making a real and important difference in your life.
Number of Pages: 326
Genre: Health + Wellness
Format: Paperback
Publisher: Square One Pub
Author: M.D. Helen Vlassara
Language: English
Street Date: September 20, 2016
TCIN: 50781886
UPC: 9780757004209
Item Number (DPCI): 248-11-1732
Shipping
In stock
- free standard shipping with REDcard