product description page
Everything You Need to Know About Parkinson's Disease : The Complete Guide for People With Parkinson's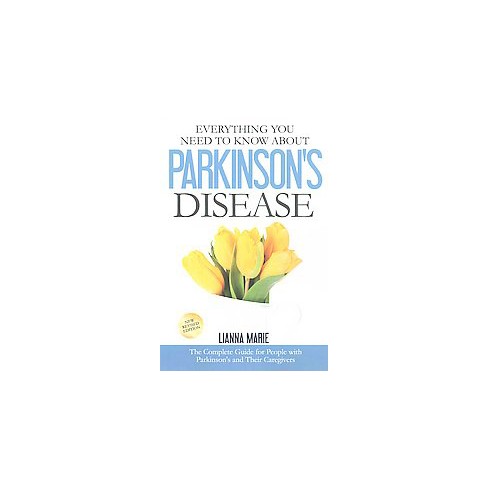 about this item
Everything You Need to Know about Parkinson's - All in One Place!
Written in plain, easy-to-understand language, this book teaches you everything you need to know to about Parkinson's Disease, without you guessing or searching endlessly for answers to your biggest questions. This book is the result of 25 years experience and research in living a life with Parkinson's Disease. It's chock-full of vital facts, helpful hints and critical information... all in one easy to read book.
Here's some of what you're going to discover:
Discover exactly what is Parkinson's Disease. What causes it? How fast does it progress?
How to get correctly diagnosed in determining whether it's really Parkinson's disease.
Is Parkinson's hereditary? Discover what the latest research shows about whether you should be concerned if your parent or close family ancestry had Parkinson's.
22 of the most common symptoms of Parkinson's Disease. Learn these symptoms so you won't be fooled by other 'look alikes'.
What the latest research shows about the most effective ways to slow the progression of Parkinson's.
The 5 Stages of Parkinson's and how to identify which stage you're at now.
How Parkinson's can affect your life expectancy and whether people die from the disease. It's a lot less scary than you think!
Why attending a Parkinson's support group meeting may NOT be the best move for someone who has just been diagnosed with the disease.
This book isn't just for the newly diagnosed. Inside you'll learn:
What you should know about Essential Tremor and how it's different from Parkinson's Disease.
The role that age plays in getting Parkinson's and what you should know about Early Onset Parkinson's.
Why anxiety and depression are common in Parkinson's patients and how to best alleviate these negative emotions.
The relationship between Parkinson's and Alzheimer's Disease.
The real cause of depression in Parkinson's patients whether it's caused by the disease or the side effects of the common medications.
What you should know about stress and how this can negatively impact you. Learn 5 simple techniques you can use to alleviate stress and reduce these effects.
What you should know about the common medications prescribed for Parkinson's patients and the common side effects and long-term effects of the drugs.
Drugs you should avoid while on Parkinson's medication and those you should definitely tell your pharmacist about if you're using them.
12 Ways to reduce nausea, a common side effect of many Parkinson's Disease drugs.
You'll find these tips too:
8 Techniques you can use in order to prevent "freezing". You'll learn a neat little trick discovered by accident that works very effectively.
Learn how to know if you are getting the most out of your medicine. (How much "off
Edition: New / Revised
Number of Pages: 192.0
Genre: Health + Wellness
Sub-Genre: Diseases / Nervous System (incl. Brain)
Format: Paperback
Publisher: Createspace Independent Pub
Author: Lianna Marie
Language: English
Street Date: October 22, 2015
TCIN: 50611704
UPC: 9781515258315
Item Number (DPCI): 248-09-0457
---