product description page
Excommunicated from the Union : How the Civil War Created a Separate Catholic America (Paperback)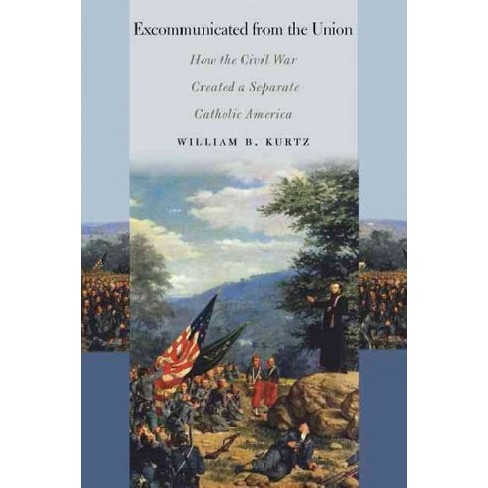 About this item
Anti-Catholicism has had a long presence in American history. The Civil War in 1861 gave Catholic Americans a chance to prove their patriotism once and for all. Exploring how Catholics sought to use their participation in the war to counteract religious and political nativism in the United States, Excommunicated from the Union reveals that while the war was an alienating experience for many of 200,000 Catholics who served, they still strove to construct a positive memory of their experiences in order to show that their religion was no barrier to their being loyal American citizens.
The beginning of the Civil War in 1861 gave Catholic Americans a chance to prove their community's patriotism once and for all. Many predicted that anti-Catholic, and anti-foreign sentiment known at the time as nativism" would fade away before the proud ranks of Catholics serving in the Union Army. "[L]et us hear no more 'nativism'," declared the widely-read Irish Catholic newspaper, the Boston Pilot, "for it is now dead, disgraced, and offensive, while Irish Catholic patriotism and bravery are true to the nation and indispensable to it in every point of consideration."

However, the church itself was divided into pro- and anti-war camps, with the latter despising abolitionism, Abraham Lincoln's seemingly radical government, and the bloody cost of the conflict itself. Opposition to the war hindered efforts by pro-war Catholic apologists to forge an unassailable narrative of patriotism and sacrifice to counter nativism and anti-Catholic prejudice. When Republican leaders assailed their apparent lack of patriotism, Catholic leaders responded to subsequent criticism of their community with an instinctive defensiveness born out of their encounter with antebellum nativism. The failure to defeat nativism during the war accelerated the development of a separate Catholic subculture in the North.

In the late nineteenth century, Catholic apologists tried to use their wartime patriotism to counteract religious bigotry. But their efforts were only successful in reassuring the Catholic community that it had done its part in the war to save the Union. No amount of belated post-war unity between Catholic veterans, leaders, and apologists proved able to defeat new forms of nativism in the late nineteenth or first half of the twentieth century. Alienated by the strength of nativism before, during, and after the conflict, the American Civil War accelerated the antebellum trend in American Catholicism toward isolation and separatism.
Number of Pages: 236
Genre: History, Religion + Beliefs
Sub-Genre: History
Series Title: North's Civil War
Format: Paperback
Publisher: Fordham Univ Pr
Author: William B. Kurtz
Language: English
Street Date: December 1, 2015
TCIN: 23937160
UPC: 9780823268863
Item Number (DPCI): 247-49-7753