product description page
Freezer Crockpot Meals : Top 30+ Freezer Slow Cooker Meals for Every Kitchen That Everyone Will Love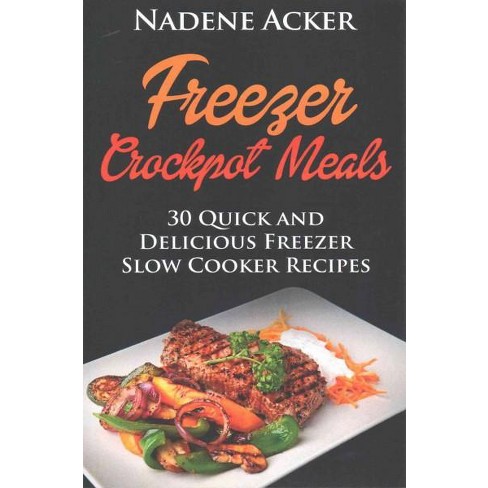 about this item
Freezer Crockpot Meals Top 30+ Freezer Slow Cooker Meals For Every Kitchen That Everyone Will Love
Do you often not have enough time during the week to even prepare a slow cooker meal in the morning for that night's dinner?
Perhaps you're a busy mom or just someone who goes to work too early to have to chop vegetables and toss some meat into their slow cooker in the morning, but there's a solution! Prepare your meals and freeze them over the weekend or even a month ahead of time so that you can pull out the bag from the freezer and dump the contents into your slow cooker. It'll take you less than ten minutes!
In this book, you'll find 30+ recipes for poultry, beef, pork, and even vegetarian. Take a look at all the delicious recipes you can prepare ahead of time and freeze.
Chapter One – Poultry • Crockpot Chicken Soup with Mexican Seasonings • Crock-Pot Lemonade Chicken • Crock-Pot Aloha Chicken Crock-Pot Applesauce Chicken • Crock Pot Chicken Noodle Soup • Healthy Mama BBQ Chicken • Chicken Tacos Chapter Two – Beef • Slow Cooker Beef Roast and Carrot Recipe • Crock-Pot Sweet & Sour Beef • Crock-Pot Brown Sugar Meatloaf • Crock-Pot French Dip Sandwiches • Crock-Pot Beef Barley Stew • Crock-Pot Western Beef Casserole • Mexican Casserole • French Stew • Monterey's Chapter Three – Pork • Crock-Pot Cheesy Potatoes and Ham • Crock-Pot BBQ Pork Ribs • Slow Cooker Potato Soup • Pork and Pinto Beans • Pulled Pork • Orange Beef Stew • Ginger Cranberry Pork Roast • Slow Cooker Honey Parmesan Pork Roast Chapter Four – Vegetarian • Bell Peppers Stuffed • Spinach-Artichoke Casserole • Mushroom Lentil and Barley Stew • Meatless Sloppy Joe's • Quinoa Corn Chowder • Slow Cooker Root Vegetable Stew • Crockpot Jambalaya
Download your E book "Freezer Crockpot Meals.Top 30+ Freezer Slow Cooker Meals For Every Kitchen That Everyone Will Love " by scrolling up and clicking"Buy Now with 1-Click" button!
Tags: freezer meals for the slow cooker, freezer meals crock pot, freezer meals slow cooker, freezer slow cooker cookbook, freezer slow cooker, freezer crockpot, slow cooker freezer recipes, freezer cookbook, freezer meals cookbook, freezer recipes, freezer meals the make-ahead meals cookbook, freezer meals 55 healthy recipes, freezer meals for a month, freezer meals healthy, freezer meals quick and easy, Freezer, Freezer Meals For Every Kitchen, freezer cooking, freezer cooking cookbook, freezer cookbook, freezer meals, freezer meals cookbook, freezer recipes, freezer meals 55 healthy recipes, freezer meals for a month, freezer meals healthy, freezer meals quick and easy money-saving recipes, make ahead meals, freezer cooking, freezer meals healt
Genre: Cooking + Food + Wine
Sub-Genre: Vegetarian
Format: Paperback
Publisher: Createspace Independent Pub
Author: Nadene Acker
Language: English
Street Date: August 13, 2015
TCIN: 50378112
UPC: 9781516848027
Item Number (DPCI): 248-06-3425
---